I grew up far from being wealthy. I remember shit like waiting in line for the powdered milk and cheese brick that my mom would copp from the church. My dad hated for her to get that shit but the truth was that we needed a little help when he was the only one working and my mom was finishing up her B.A. requirements. We had food stamps and a supermarket on Northern Blvd. that allowed me to use them to buy shit like bread, milk and butter.

My dad and my mother worked their natural Black asses off to put the family in a position where we no longer needed food stamps. I imagine that to be the purpose of a national welfare system. People require essential provisions to survive. As long as folks are working in a direction that will remove them from the assistance dole they should get some help. I'm surprised now (but not really) that I don't hear any chatter from all the welfare reform politricksters about how the banking system bailout is nothing more than a trillion dollar welfare system.
I couldn't use food stamps to pay for a fancy meal at Cipriani's or the Russian Tea Room, so why are we allowing the banking system a do-over after they spent their money on boutique financial ponzi schemes? With no oversight or regulation there was bound to be egregious theft. We ARE capitalists aren't we? Well, actually, they are capitalists, we, meaning the folks reading this blog are the capitalized.
Truth be told I don't know a hotdamn thing about macroeconomics, but I thought the whole point of capitalism was always big fish eats little fish.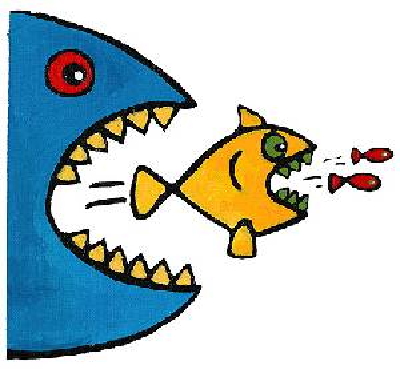 So now that the big fishes like AIG, Bear Stearns and Lehman Brothers have bitten off more than they can chew should we be saving them?
COMPASSIONATE CAPITALISM
I think I mentioned this term in a previous drop. I'm not recalling socialism and certainly not communism, but the idea is that the term "free market" is a misnomer that we can no longer afford to misunderstand. The market has to be monitored on some serious shit. We can't permit entities to become so large that when they have a coronary from poor management they clot up our entire economic system.
AIG's $13B losses in the first half of 2008 opened the floodgates for their welfare package of $85B. This is a relatively small amount considering there are corporations that have even greater global holdings that have yet to submit their ledgers from this fiscal year. Can you imagine what the amount might be to prop up a mega multi-national monolith like General Electric?
Sheeeeeeeit, cancel Christmas for the next 10 generations.
I still don't understand how we can prevent the banking industrial complex from creating that next new vehicle to defraud poor folks from their money. How retarded on some diabolical genius shit is the concept of money anyhoo? I guess its time to get that chip put into my forehead. I don't even give a fuck anymore. Just as long as I can get myself a package of pre-sweetened Kool-Aid and a couple of cans of sardines.