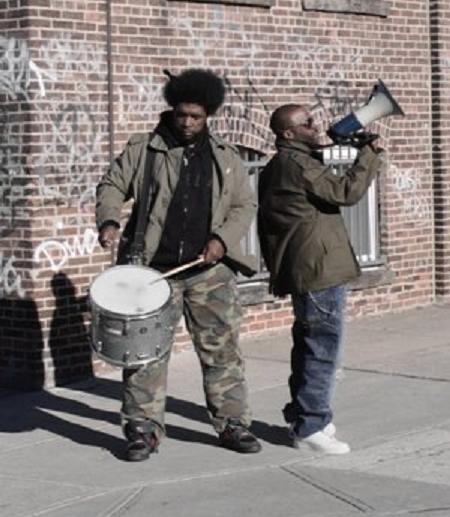 Do you understand that the essence of Hip-Hop, ne, of all music, is the sound of the drum and the timbre of the voice. Thunder and lightening. Or enlightenment, as in the case of Black Thought.
You should already know that I fux with the Roots hardbody. If I had a trust fund to lean on I would just follow them around the country like people used to do Jerry Garcia and the Grateful Dead. I don't have that advantage so I have to carefully plot out my Roots experiences.
I feel like the band has been in my New York City backyard as much as they used to come out here back in 1995. That was in the old days of the Wetland's, S.O.B.'s, Tramps, Black Lily and Spitkicker. Back when Rawkus Records really mattered. This time I'm taking full advantage of their artistry. My advice to all my friends on this site is to do the same. You won't know what you have missed until it is gone.
OKayPlayer posted their summer tour schedule today and there are more dates listed than I expected. In the back of my mind I think that the Roots are really the RoBots because these fools don't stop performing. Last month they came to NYC to tape the Jimmy Fallon show, afterwards they performed behind Etta James and then later that night I caught them at the Highline Ballroom for their weekly Jam Session. Who the fuck grinds this superfluously (shouts to Roget's for that one)?!?
Like I always say partypeople, "get in where you fit in"…
Saturday 6/27/09 Chicago Rock The Bells @ First Midwest Bank Ampitheater
Sunday 6/28/09 Detroit Rock The Bells @ DTE Energy Ampitheater
Tuesday 6/30/09 Cleveland @ House of Blues
Wednesday 7/1/09 NYC Jam Session @ Highline Ballroom
Thursday 7/2/09 Minneapolis @ First Avenue
Friday 7/3/09 Milwaukee @ Summerfest
Saturday 7/4/09 Philadelphia Welcome America Celebration on Ben Franklin Parkway
Sun 7/5/09 Burlington, VT Festival @ Burlington Waterfront Park
Tues 7/7/09 Lansing, MI @ Common Ground Festival
Weds 7/8/09 NYC Roots Jam @ Highline Ballroom
Fri 7/10/09 Las Vegas, NV @ Hard Rock Hotel & Casino – Outdoor Pool
Sun 7/12/09 Baltimore/DC Rock The Bells @ Merriweather Post
Tues 7/14/09 NYC Roots Jam session @ Highline Ballroom
Sat 7/18/09 Boston, MA Rock The Bells @ Comcast Center
Sun 7/19/09 New York, NY Rock The Bells @ Jones Ampitheater
Tues 7/21/09 NYC Roots Jam session @ Highline Ballroom
Fri 7/24/09 Atlantic City, NJ @ Borgota Casino
Sat 7/25/09 Burnaby, British Columbia, CAN @ Deer Lake Park
Tues 7/28/09 NYC Roots Jam session @ Highline Ballroom
Sat 8/1/09 Montreal, CAN @ Osheaga Music Festival
Sun 8/2/09 Grand Bend Ontario, CAN @ Cutting Edge MusicFestival
Tues 8/4/09 NYC Jam Session @ Highline Ballroom
Saturday 8/8/09 Los Angeles, CA Rock The Bells @ Glen Helen Ampitheater
Sunday 8/9/09 San Francisco, CA Rock The Bells @ Shoreline Ampitheater
Monday 8/10/09 NYC Roots Jam Session @ Highline Ballroom