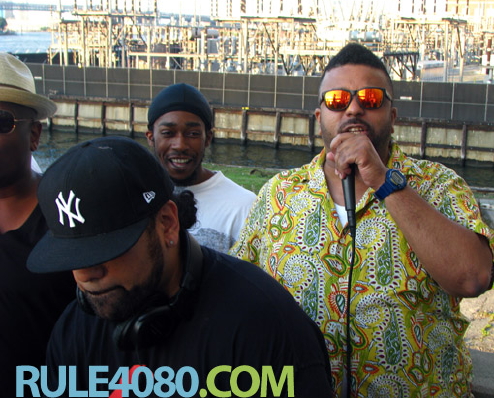 You might have heard about the little party that Combat Jack and I threw for the internets. We gave the party for Nah'Right. Not JUST eskay, but for the community that he has created. The same goes for OKayPlayer.com and everything that site has done for Hip-Hop and the culture since it came online over 10 years ago. On terrestrial radio MINYA OH gives information on real world celebrities and their trials and tribulations, but to the online community Miss Info is an internets celebrity.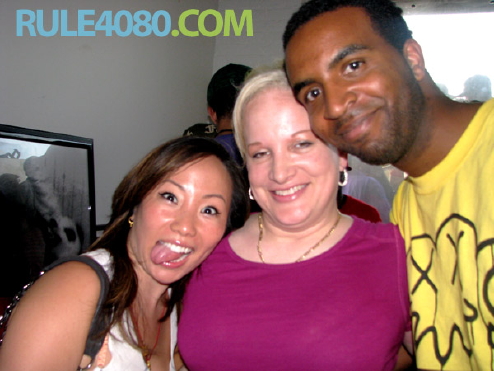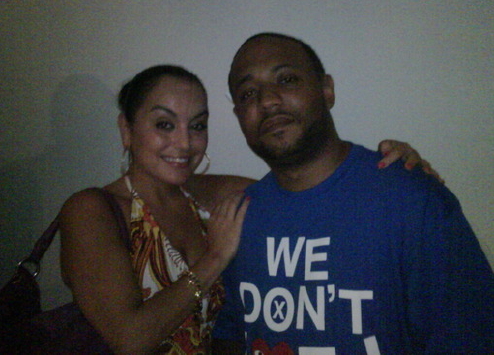 These were some of the folks that we wanted to salute for the 1st Annual Bring Your Own Blogger BBQ, but mostly we wanted to big up you, the internets. The people that use inter-connected networks to exchange news, views and information. Y'all are the internets. If you have a Facebook, a MySpace page, a Twitter account, an AIM screenname or anything that floats on the worldwide you have an inter-connected network. And if you have access to two or more inter-connected networks you are now an INTERNETS.
The BBQ was for the people who weren't scared of the 'S' on the end. They aren't scared to use it. They embrace it. The are the folks from the future that we are talking too. And they all brought us the most valuable thing they had to give. Their time. Folks could have been ANYWHERE else in Brooklyn, fuck it, the world for that matter. But the internets came through a little radio station in Brooklyn and spent time with us for a few hours. That was big. In my mind time is money. So because I consider myself to be very valuable so is my time. And since I fux with you internets you should feel the same way about yourself.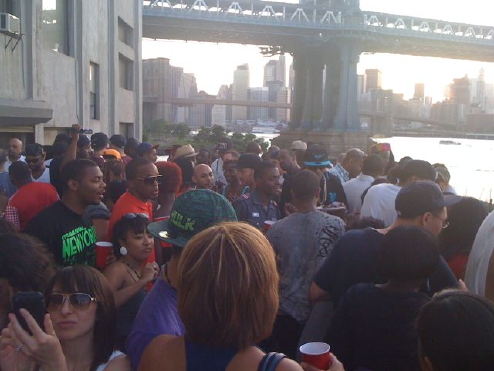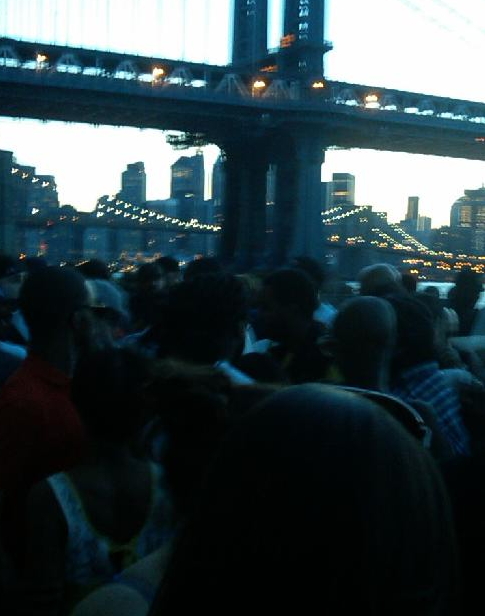 With that premise we jumped out the window with the BBQ plan. We knew who we were, the internets, but we didn't know where we would get down with it. Combat Jack went into his Blackberry rolodex and started hollering at fellow online personalities who talk about the importance of inter-connected networks. At each turn we were stymied and stifled by sponsors. Mountain Dew DID NOT EVEN have a 6-pack of cans for this event. I would have turned them down tho' since the event was called BYO-B, not C.
I thought I might have some free bottle of liquor to help the spaceship take off properly since my dad's old company is based here in NYC and I have seen them giving free shit to Jeff Staple and LRG. Those folks aren't internets like we are so my sponsor request was denied on Friday at midnight.
to: dallas.penn@gmail.com
date: Fri, Jul 17, 2009 at 11:35 PM
subject: Re: BYOBlogger BBQ

Dallas, I was unable to provide a sponsorship or donation through my suppliers. It has to fall under a charity with a 501 3C.
————————–
Sent from my BlackBerry Wireless Handheld
This meant that I had to go to the ATM and withdraw $500 to get people nice and smoothed out. If my phone is shut off this week don't sweat it because I will back on by Friday the 31st (payday). I opted not to buy the cheapest shit I could find because that would surely not look good on our record in the future. I went in with Bacardi Gold, Limon and this new Dragonberry shit. Dragonberry for the motherfucking win. I pulled in Svedka vodka on the co-sign of RYAN HOBBS. He is one of the Go-In Brothers who threw a rooftop party last year on Bedford Avenue that popped hardbody.
I mixed up two separate punches and created back up bottles so that the juice containers could simply be refilled when they were tapped. My punch mixes are not for the amatuers in the game. You need to drive slow when I am in the building or else ypu might find your car swerved on the side of the road. More on that later. If you are doing a bar-b-cue and you don't invite me that is fine, but if you don't use my punch recipes you are losing. Don't be a loser…
DP Rum Punch
Arizona Fruit Punch and Mucho Mango. Apple & Eve organic peach mango juice. Bacardi. And more Bacardi. The Dragonberry Bacardi is dangerous. You will never see it coming, but it will get you. And then you will be caught out there.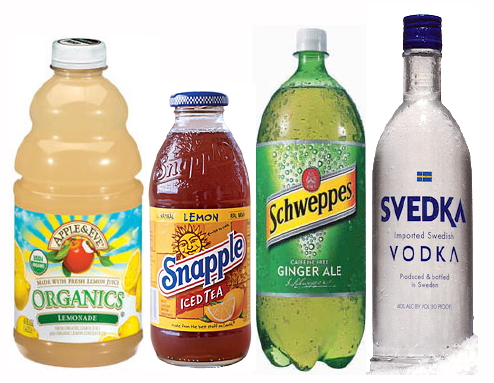 Arnold Palmer On Acid
Apple & Eve organic lemonade (What's with the organic beverages?!? I see you Combat Jack.), Snapple lemon iced tea. Schweppes ginger ale. Svedka vodka. This was the HGH punch for the day. I'm doing this one again with a premium vodka and ginger beer.
Now the party wasn't ready to fly off yet because the grill wasn't fired up, but that was in the capable and sturdy hands of 40 Diesel who did some hood star Emeril shit and was giving people meat like it wasn't nothing. Fools were eating and drinking and talking mad shit. It was going down party people, but I was missing the most important element. I needed some music to give the crowd the vibe that would take us all the way to 1am. That was supplied by my G from forever and the most flamboyant producer, GudTyme. Guds has been on tour with groups like the X-Ecutioners and the homey Rob Swift. Without Guds jumping in the projet from the very beginning we would not have had the momentum we needed to get to the finish line. No Guds = no J.Period. Guds made the music happen. We had liquor, food and music. Now all we needed was the internets. And then just like that here they came…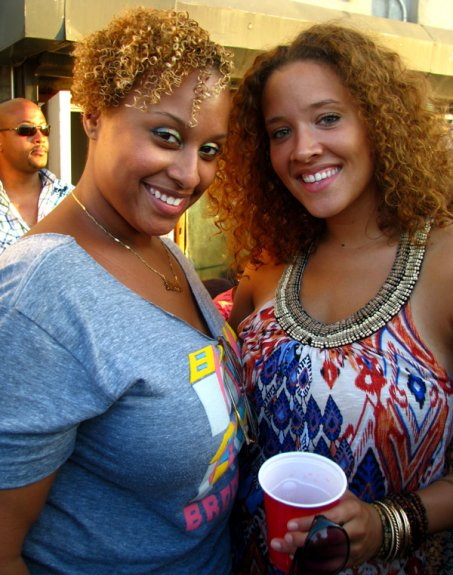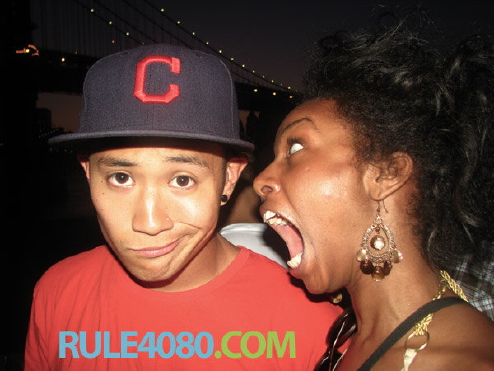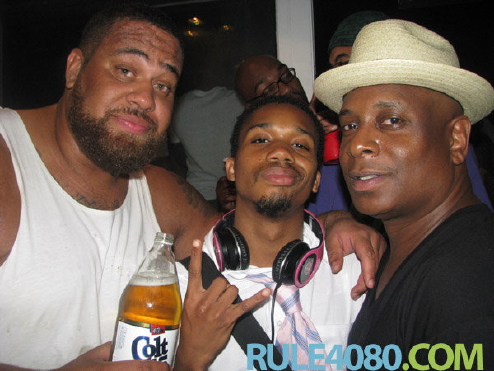 I can't remember in my mind's eye everyone who came through the BBQ. There were sooo many talented people inside of that piece. Creators, and consequently consumers. We all buy each other's shit, good and bad. We are each other's customers. I was hell'a philosophical that night. Maybe it was the sunset over Manhattan's tremendous skyline. Maybe it was realizing that all the sleepless nights I spend in the lab putting posts on DP.com and other sites has allowed me the access to speak with people who are literally my heroes. We are all creating the life we imagine for ourselves by sharing our talents AND our information. Can you imagine how powerful the internets could be if everyone lived like this?
A special shout goes out to the internets that swerved off the road. This dude enjoyed the party like none of the rest of us did. Combat Jack said that is was the rum punch. I think that 40 Diesel maybe put something extra on the grill. Whatever it was cousin was done in lovely. I admired dude for enjoying himself that much. If I can make some call Earl at the end of the night and not during the party then I have done my job. For your information, this brother was taken home but not just one, but TWO pretty young ladies. Earl FTW.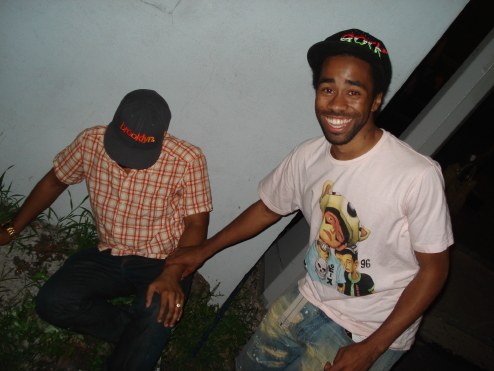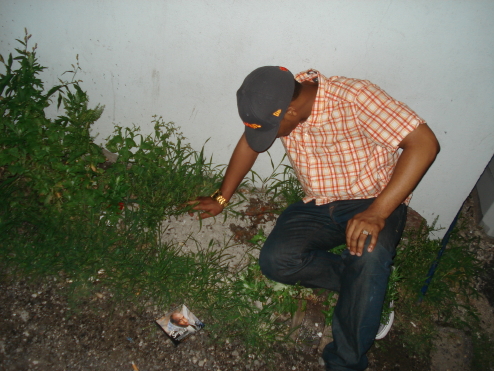 I need some time to soak up this entire weekend, from losing my bank card and liquor sponsors on Friday to the epic BBQ, to a historic day at Jones Beach for Rock The Bells, to now walking out the door to my day job @ 730am this morning. I'll get back on the internets with you some time later. In the meantime and in between time enjoy some of these links that are featuring the 1st Annual BYOB BBQ…
Rule 4,080's Joey2Fresh hung out all day and caught the day and night scenes of the BBQ
B.Y.O.B BBQ (Day) at PNC Brooklyn 7.18.09
B.Y.O.B BBQ (Night) PNC Brooklyn 7.18.09
UrkelBot Brian from PNC Radio's Bar Exam show and 2Fresh2Cool.com made this Vimeo from scenes of the BBQ
Internets! Stay logged on and locked in.
It's only just begun…