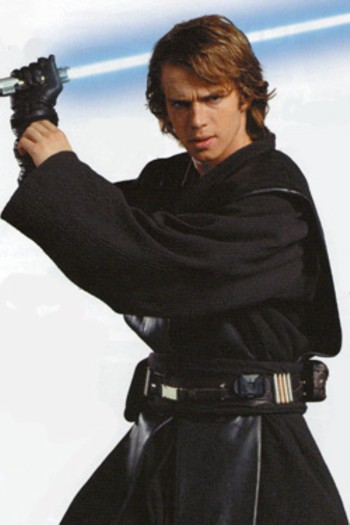 Real life often imitates art because art is so much more fun. There was also a time when art wasn't simply disposable entertainment. It had a permanence and a relevance to our lives that transcended generations. Art contained the messages of morality and mortality, art described the human condition. Nowadays there isn't too much art that can hold claim to being relevant to anyone other than the artist themselves. Be honest, can you imagine the Black Eyed Peas having a recording contract two years from now?
The STAR WARS saga has gripped our minds for nearly three decades because it has been good art. Not only have the movies been viscerally stunning and groundbreaking, but they have contained the components of a classic morality play. The eternal struggle of good versus evil, the prodigal son, the horny sailor woos the sexually supressed princess, you know, all the great stories from the Bible. The biggest parable that is displayed in this saga is the theme that "absolute power corrupts absolutely".
To this extent I see such a direct correlation between the STAR WARS saga and our current presidential administration. The powers of a government should be dedicated to the freedom and liberty of its citizens. This current administration has used fear and the threat of violence to paralyze us, forcing us to choose between life and liberty as if these two precepts were mutually exclusive.
In the end I still believe that good will triumph over evil and the universe will eventually right itself, but in the meantime and in between time I will try to appreciate all the good art.

PRESIDENT GEORGE H. BUSH = DARTH SIDIOUS
The former president is the boss of all bosses. There isn't a damn thing that happens on the planet today that President BUSH didn't engineer decades ago. Before he was President he directed the Central Intelligence Agency, and before that he was a major player in Beltway politics. Just like Chancellor Palpatine rose to power while simultaneously enabling the Republic Seperatists as Darth Sidious, President Bush installed Saddam Hussein and the Ba'ath Seperatists only to chop them down like a tree when he decided that he no longer needed their shade. One word – gangsta!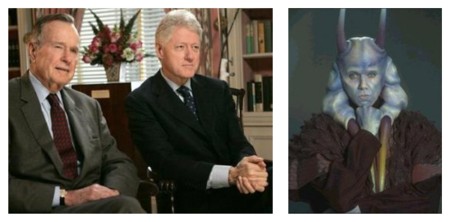 PRESIDENT BILL CLINTON = MAS AMEDDA
MAS AMEDDA is essentially the umbrella holder for Chancellor Palpatine. Think of him as an extra-large parrot.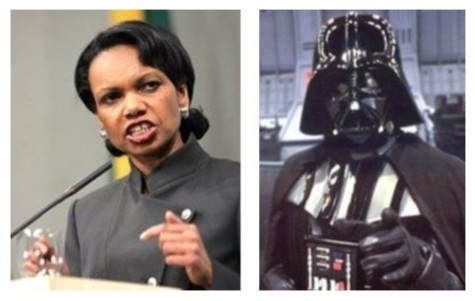 SECRETARY of STATE Dr. CONDOLEEZA RICE = DARTH VADER
I know that some of you will disagree with this at first but try understand why I have selected CONDI for this spot instead of G.W. The main reason is that CONDI still has more destructive potential if she is elected President in 2008. She has already put Iran on notice. From her years of working inside the Russian and Middle Eastern intelligence machines she has an intimate knowledge of the Galactic Empire loyalists in those regions second only to DARTH SIDIOUS PRESIDENT BUSH Sr.
Incidentally, the Rebel sympathiser Sudanese president OMAR al-BESHIR better protect his neck if Dr.RICE does become president after that dustup during her visit last year.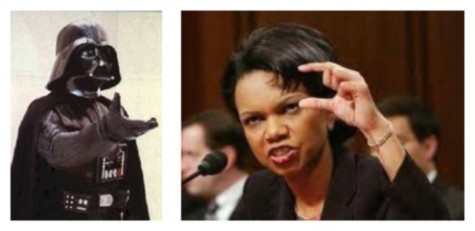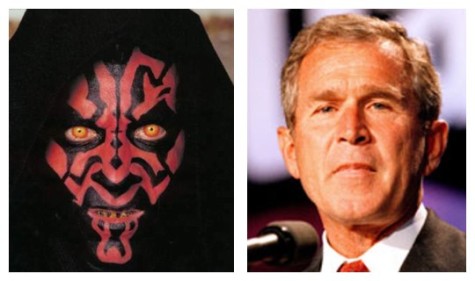 PRESIDENT GEORGE W. BUSH = DARTH MAUL
DARTH MAUL was an important character because his skill showed you just how powerful his master was. One of the additional factors that led me to choose this character for the current president is the fact that his dad would probably sacrifice him to save his favorite son, NEIL.

VICE PRESIDENT DICK CHENEY = GRAND MOFF TARKIN
GRAND MOFF TARKIN was ultra loyal to the Emperor and he was an evil bad ass to boot. The Emperor uses TARKIN to keep an eye on the hot-tempered DARTH VADER so that he doesn't choke everyone out on g.p. As an aside, do you think it was CHENEY that kept CONDOLEEZA from putting rat poison in COLIN POWELL's coffee? Anyhoo…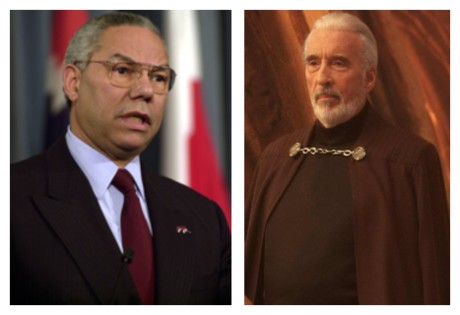 SECRETARY of STATE COLIN POWELL = COUNT DOOKU
COUNT DOOKU did what his master, DARTH SIDIOUS, had instructed him to do and when he was no longer needed, he was terminated.

PRESIDENTIAL ADVISER KARL ROVE = GENERAL GRIEVOUS
GRIEVOUS was a critical member of the Sith forces because he was an excellent strategist. KARL ROVE has shown that he has an uncanny ability to plot strategies for the Bush administration. When the President appears weak in the public polls ROVE has taught him to just blurt out three simple words – GOD , abortion, terrorism. Its a masterful strategy that hasn't failed yet.

SECRETARY of DEFENSE DONALD RUMSFELD = ADMIRAL ROMODI MOTTI
What had happened was they was having a Cabinet meeting and RUMOTTI got out of pocket talking about how we was going into Iraq with guns blazing and how we was going to kick that Iraqi azz like it stole'd our mammas pocketbook, but then CONDARTH was like, "Stop talking so much shiite and just get some positive results, the President is down 25 points in the Gallup polls!" She put the Force choke on homeboy but then she let him go when GRAND MOFF CHENEY told her to chill out.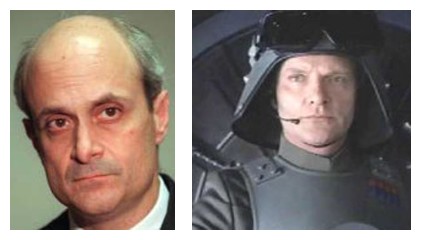 DIRECTOR OF HOMELAND SECURITY MICHAEL CHERTOFF = MAJOR GENERAL MAXIMILLAN VEERS
Both characters rose to prominence from humble means and both are extremely intelligent and ambitious. VEERS curried favor with the Emperor by commanding the ground troops during the battle of Hoth. CHERTOFF will attempt to make his mark by thwarting Mexican day laborers from crossing the Rio Grande.
F.Y.I.: Most of the illegal immigrants in America have come from Eastern Europe and they simply let their visas expire.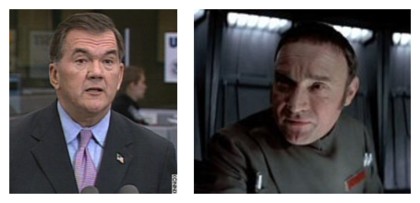 DIRECTOR OF HOMELAND SECURITY TOM RIDGE = HIGH GENERAL ULRIC TAGGE
GENERAL TAGGE would tell anyone that would listen to him that the Rebellion posed a serious threat to the Death Star. It turned out that he was right. Because protecting one's arse is essential to survival you listen to people when they tell you that you are in danger. I believed TOM RIDGE even when the colors for the U.S. terrorist threat level began to resemble the rainbow flags in a Greenwich Village 'PRIDE' parade. The kicker came when I found myself buyings cases of duct tape and cellophaning my apartment. I wonder if TOM RIDGE is now on the board of directors at 3M?!?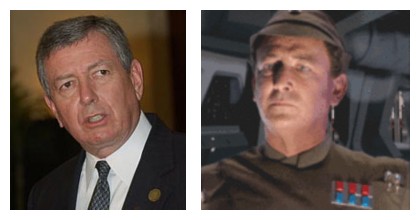 ATTORNEY GENERAL JOHN ASHCROFT = ADMIRAL FIRMUS PIETT
The interesting connection between these two characters is that they can only make political advances by default when their supervisors are dead. ADMIRAL PIETT is continuously promoted when the Imperial Fleets' commanding officers err and VADER terminates them in his special way. While he was an incumbent Senator, JOHN ASHCROFT lost a Senate election to a man who had died almost a month before the election! WTF?!? That's my Bush.

NYC POLICE COMMISSIONER BERNARD KERIK = LIEUTENANT POL TRIEDUM
How many of you remember this Imperial Officer? He was one of those characters in the O.G. STAR WARS movie that you knew was created to be cast away. I consider him lucky to have even been given any lines to read. The BERNARD KERIK character seemed equally tragic when he was offered a position on the Beltway only to be shredded to pieces. It was so brutal that he couldn't even go back to his job holding the umbrella for RUDY GIULIANI.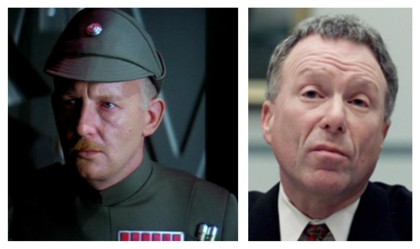 I. LEWIS 'SCOOTER' LIBBY Jr. = ADMIRAL KENDALL OZZEL
I always wondered how a guy named SCOOTER could be a Presidential advisor, but that thought has been rendered moot thanks to SCOOTER's bumbling antics and duplicitous conduct regarding the leak of confidential information. ADMIRAL OZZEL was relieved of his duties by DARTH VADER with the classic movie quote…
"You are as clumsy as you are stupid"

FEMA DIRECTOR MIKE BROWN = CAPTAIN LORTH NEEDA
Just like CAPTAIN NEEDA, F.E.M.A. Director MIKE BROWN was overmatched in skill, wits and motivation. Everything was going well for 'BROWNIE' until that blasted Black bitch of a hurricane, Starrkeysha, blew through the Gulf Coast. Up until that point it had been just like the old frat boys days when DUBYA and BROWNIE called each other by their nicknames and shot their pistols up in the air. MIKE BROWN won't even be a footnote in the history books, but his ineptitude will have reverberations for decades.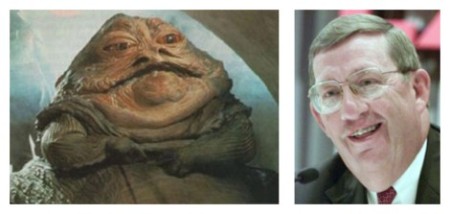 EXXON-MOBIL CEO LEE RAYMOND = JABBA THE HUTT
Physical similarities aside, both characters have an even closer resemblence in their attitudes. LEE RAYMOND is nefarious for playing on both sides of the court. Wasn't Exxon (formerly Esso) guilty of selling oil to the Viet Cong during the Vietnam conflict?!? LEE RAYMOND essentially told the Senate to kiss his grits when he was questioned as to whether gas prices were artificially manipulated.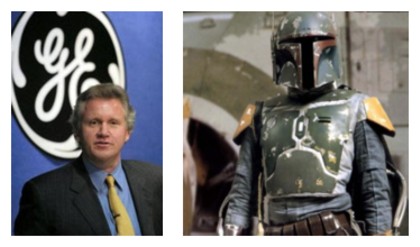 GENERAL ELECTRIC CEO JEFF IMMELT = BOBA FETT
In the STAR WARS universe, BOBA FETT may be the second most important character next to the Emperor. He has a significant role in both trilogies. The character is confident enough to make demands to DARTH VADER. In the sometimes real world that we all occupy JEFF IMMELT takes a seat to no one. GENERAL ELECTRIC is a multi-national weapons manufacturer as well as a global communications conglomerate. Basically, they can send a fighter jet to shoot you a brand new azzhole and then report it on an NBC affiliate's evening news that some reederkuless blogger has gone ape shit.