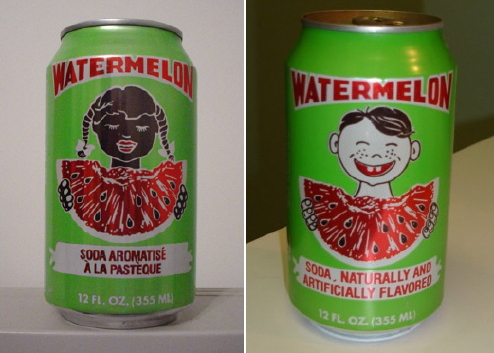 My cuzzo hit me up with the image on the left telling me that we needed to take the crackers to task for promoting a racist product like the Watermelon flavored soda. In the context of that image almost everyone would say that was a racist product.
I told my cuz to be easy because I drinks that soda whenever I am in Florida or the Caribbean. It's quite delicious in the curious sense of a sody pop still being flavored with actual sugar. My cuz called me a supremacist apologist.
ME!
Listen, just because I have an affinity for snowflakes and 1980's new wave music that is no reason to revoke my "proud negro" membership card. I told her the other side of the can had a white kid on it.
Cuz wasn't buying it.
The internets never lie.
Who the fux doesn't like watermelon anyhoo.
Even the most virulent racist couldn't be that stupid.