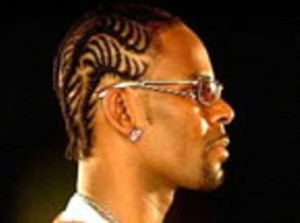 What would you do if you had a super power? Would you use your super power to help save people and right the wrongs of the world? Or would you use your power for wild business? Would you become some kind of Narcissistic pedophile that has a Zorro mask fetish? That's what you would do if your name was ROBERT SYLVESTER KELLY.
Over the last fifteen years there has been no question that R.KELLY has been the most compelling R&B artist around. His musical compositions are filled with bass heavy lazy midwestern funk grooves. Perfect for creating the vibe to put the squeeze on your favorite squeeze. His songs lyrics are brash and cocky, filled with enough sexual innuendo to be the script for a pimp's biography. This is an artist who is crazy enough to call himself the Pied Piper!?! This link is an illustration from the fairytale. Peep the young maidens all around the piper. I should say that its ASSUMED that the girls in the illustration are maidens and not young harlots, but you do know how Medieval Europe got down?
In the end I think that's ultimately why we suffer him his affliction for pre-pubescent women. If R.KELLY wasn't around to make his music there would be a lot of un-Happy People. So I have decided that I will not admonish R.KELLY, as long as he doesn't kill any of these girls. If he had to kill one, say because she got out of pocket, and he didn't torture her, then I wouldn't be mad. Like if he killed a girl by accident, because say, she liked to be choked while being peed on, I wouldn't be mad at him. Now don't get it twisted by thinking that I would ever advocate violence against women(unless of course she consented and they established an agreed upon safe word). Its just a
reality that accidents do happen sometimes when people are making love. How else do you explain all the kids in the foster care system?
By George that's it! R.KELLY should open a foster home for young girls. This way if he molests any of the girls he can't be prosecuted because they will be legally his daughters and everyone knows that incest is NEVER a crime when entertainers do it.(GOOGLE a link for either JERRY LEE LEWIS, ELVIS PRESLEY and WOODY ALLEN).
I don't want ROBERT SYLVESTER KELLY to go to jail because there is no one else that can craft a ghetto soap opera story like the 'Trapped in the Closet' saga.