The July 4th weekend is Chocolate Snowflake and my anniversary. When we met seven years ago we came to realize that we had been in the same place at the same time mostly all our lives. We just weren't looking for one another until finally our world's collided like the Hadron.
C.S. and I are musical beings because we love the sounds all around us. Rain on the window sill. Birds in the trees. The cars on Eastern Parkway. There is a rhythm in all of those things that is musical if you can open your mind to hearing it. That is the way you also find love. You have to be open to receive it, just like music.
The day didn't begin on such a great note for us. I wasn't feeling in top shape. My diabetic condition isn't getting better on its own and before I have to do something drastic like taking insulin I am trying some other methods and formulas. I just wasn't feeling it that day tho' and C.S. understood and was willing to just stay home with me and nurse me back into the fight.
I wasn't going out like that this time tho'. Roy Ayers was performing at Central Park SummerStage and this was our anniversary dammit. I mean, everybody loves the sunshine…

Roy Ayers was preceded on the stage by the Jazz Mafia Symphony. Leave it to some dudes from San Francisco to try and keep jazz alive. I'm sure it will be some Bay Area Berkeley ass rappers who try to save Hip-Hop also. There has to be something funky in the water over there.
Jazz Mafia then brought out some grade school kids from the Harlem School of the Arts to play behind Ayers' seminal classic 'Everybody Loves The Sunshine'. It was quite magical. The star of the show was this little blind Black boy on the keys. When I say that he killed it, please believe he merc'ked it. My apologies to this camera phone quality video.
Seeing those young people on stage was actually reassuring in the sense that art was being passed down to another generation. We rarely witness that passing of the torch in rap music because of the fake scarcity of resources that is promoted in rap culture. That principle will be a discussion for another drop because this post is all about Chocolate Snowflake and me.
When the Roy Ayers concert wrapped up we had a few choices left for our day. We could scramble ourselves back home to sit on the steps of the Brooklyn Museum of Art and people watch the 1st Saturday partygoer procession. 1st Saturday was where we shared our first dance together. The legendary story is all about the foot massage that I offered C.S. on the steps of the museum after the dance party had ended. She accepted, and the rest as the story goes is his story.
The deejay set at 1st Saturday was done by my friends from the Freedom Friday party so I know the vibe was sky high at the museum. The Freedom Friday crew was motivating over to Brooklyn Bowl to do a dance party there afterwards so we decided to make BK Bowl our next stop. I'm sorry that I missed the KeiStar BBQ on Washington Avenue since that was also one of the places that C.S. would run into me that fateful first weekend seven years ago.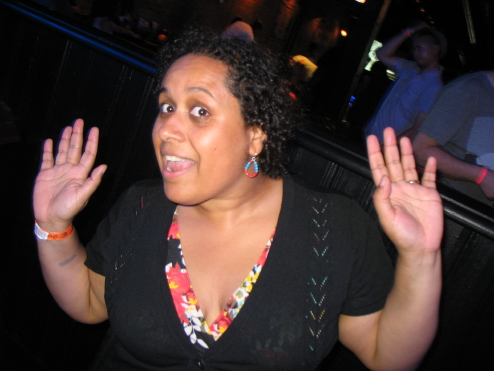 We were met at BK Bowl by C.S. younger sister who immediately recognized that DJ J-Period had on the SAME t-shirt from the Roots Picnic in Philly. She asked J if he needed her to buy him another shirt. J-Period claimed to have other shirts but ionno. Big up to Toronto emcee Shad for blessing me with that shirt also. The party at Brooklyn Bowl was a perfect endcap for the day. My mood and my physical condition had improved along the way.
Shoutout to my folks from Pardon Me Duke who happened to be in the place to be celebrating the PMD founder's new year. Another anniversary made perfect by great music and good friends. For Chocolate Snowflake and I it was another year to renew our love and faith in one another. Brooklyn was the planet, and everybody loves the sunshine.