I hate to be the one to say that I told you so even though I'm sure that I told you so on several occasions. Haitians are simply the gulliest nationality next to the Palestinians. As a matter of fact, Haitians are even more gully, because they have less reasons to be upset. Sure the Palestinians and the Haitians are both poor, downtrodden people, but at least the Haitians don't have to dodge heavy artillery shells when they go to the beach. The Haitians should be more relaxed than the Palestinians, but they're far from relaxed. Now this news comes in that Haitians were part of the plan to destroy the Sears Tower?!?
The first thing I am going to say is thank GOD it was the Haitians and NOT the Hindus. The Hindu people are real sticklers for time and precision. That's why so many Hindus work as engineers for all the different government agencies. They are methodical as all hell, but when the clock strikes 4.30pm they get their arses up from their curry fart festooned chairs and high tail it out the door. Hindus could be dangerous, but only during working hours. If you have ever been downwind of one of them after lunchtime then you get my drift.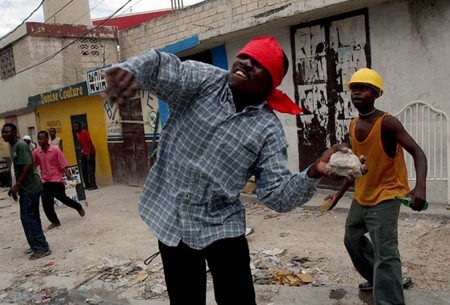 Haitians are pretty dangerous too, but mostly to themselves. I have heard stories about Haitian men severing the arms of their cousins because someone didn't want to relinquish control of the television remote. What I didn't realize is that the remote control was for the village's only television. That's the problem with Haitians. They take shit way too seriously. My understanding is that this plot to destroy the Sears Tower came during a celebration for the Heat's NBA championship victory.
When someone alluded to MICHAEL JORDAN still being a better player than DWYANE WADE it angered the Heat's Haitian constituency and that's when they decided that in order for DWYANE WADE to ascend to the pinnacle of the NBA hierarchy they would have to destroy all the symbols of the Chicago Bulls dynasty. Except nobody told these dudes that the Sears Tower wasn't built in honor of JORDAN and his marketing deal with Hanes underwear, sold excluively at Sears' retailers. What a clusterfuck we have now for all the well-educated, hard working Haitians in this country just trying to live the American Dream.
Well, at least the country is safe now from the threat of some wacky right-wing religious zealot Haitians. There's even some good news for the website. We have a new 'Seperated At Birth' graphic.