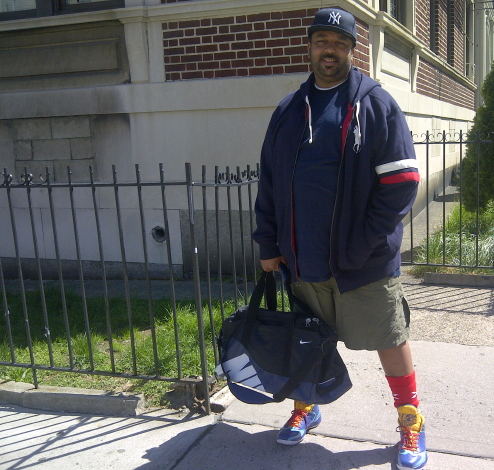 Big up to iLLiLL who stays on me to keep the Lifestyle posts updated… He doesn't contribute a single $1 to the prA'li fund tho', but I'll allow that his comments are an effective currency and drop motivator. So this is how I stepped out with Chocolate Snowflake on Easter Sunday.
We went to brunch at a local restaurant called Cheryl's for their prix fixe fare and mimosas. The day was outrageously gorgeous and we both felt like walking around Brooklyn. I offered that we should take a trip to the DeKalb Market which is adjacent to the former Albee Square Mall site. I also had a pair of shoes with me which I wanted to shoot in a video with Fulton Mall as the backdrop.
The DeKalb Market was actually poppington and there was a booth selling $1 mimosas so I kept my drunken brunch fleaux in full effect. I didn't dandy myself up this weekend since I haven't been feeling to fresh to def lately. Y'all don't need to hear my issues tho' because I'm sure you don't come here to feel worse either. LOL.
iLLiLL: As far as copping anything from the Commodoire series… Nope. I saw a few pieces I liked, but I didn't press myself to spend on that series since I have so much shit already in my archives in the red, white and blue Americana colorways as you may have seen from the recent weblog posts. I might end up with something from the Commodore series if it filters down to the secondary outlets, but I'm still getting my chips together for more Modern Explorer I.T.'s.