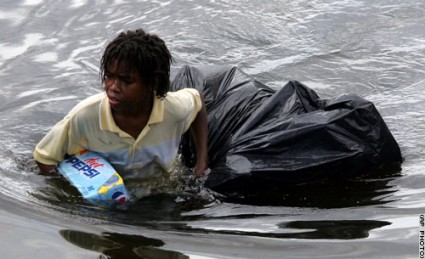 I hate the New York Times, but I have to read the New York Times in order to know what white is cooking up for my azz in the near future. The New York Times honors the age old tradition of faux liberal, closet conservative propaganda machines by using fancy new terms to describe the conditions of poverty and disenfranchisement.
All across America it seems that urban centers are no longer places where traditional middle class families can exist. The center city has become a playground for the wealthy while the poorest remain to serve them. If you look at any third world country's economic infrastructure you can see this same dynamic. The educated and skilled people that would be a legitimate middle class find that the country is not economically viable to sustain them so they emigrate (usually to the U.S.). Do you know how many people here are working in menial jobs but hold graduate degrees and professional licenses in other countries? I think about the African woman working as a health care aid in America who is a doctor when she is back in Ghana. Or the Indian man who goes from being an engineer to a taxicab driver once he comes to America.
The Times recently published this article titled 'Cities Shed Middle Class, and Are Richer and Poorer for It'. The article describes the vanishing of a residential middle class component from the large urban centers. It instead opines that the middle class have not been pushed out or priced out from these cities but have decided to relocate to the suburbs. GETTHEFUCKOUTTAHERE!?! No one considers a two-way two hour commute as a trade up on their quality of life. I realize that I have been priced out of my city by the greedy land owning developers who have used the media to advertise NYC as some magical playground where stylishly dressed white women walk the streets at all hours.
(note to readers: Don't drink the Kool-Aid. It's still NYC, and if you get caught lunchin'…)
(add'l note to readers: Even though almost 50yr old SARAH JESSICA PARKER is married to the coolest white of all-time, Ferris Bueller, she still doesn't rate as a M.I.L.F.)
Before I get too off topic let me tell you what caused me to nearly jump out of the window. In the first linked Times article, the writer quotes W. MICHAEL COX, the chief economist of the Federal Reserve Bank in Dallas…

"Firefighters who want to live in high-priced cities can work two jobs. I think it's great, because it gives you portfolio diversification in your income."
WTWTF?!? It would have to be a BUSH Administration appointee who is so out of touch with reality that he thinks a firefighter should work two jobs because the real estate costs are too accelerated for him to afford to live on just a firefighters salary.
At some point we are just going to have to 'Eat The Rich'