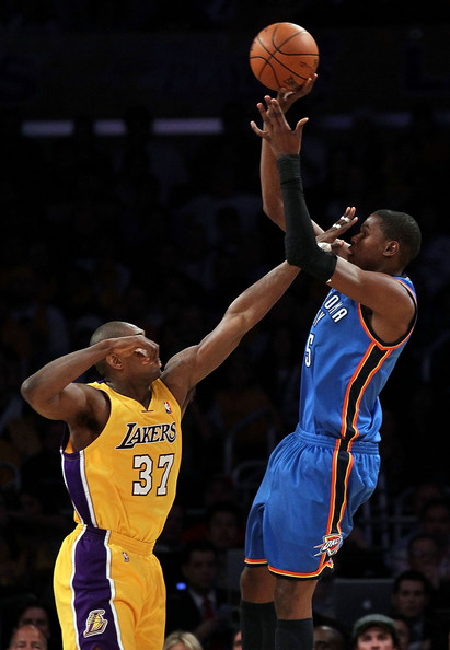 I stayed up 'til 5am watching the encore presentation of the Oklahoma City Thunder visiting the Knicks at Madison Square Garden. The atmosphere in the Garden was electric. Tracy McGrady was making his Garden debut along with Eddie House. Kevin Durant was in town with the Thunder. I should have gone to the Garden and scalped a ticket for this tilt. It ended up being one of this season's classic contests.
The Knicks battled well with the Thunder all game long. They even had a lead at several points throughout the game including the final seconds of regulation play. That is when Kevin Durant sent the Garden faithful back into their seats for an overtime period. The Thunder needed a three point play to tie the game and put an overtime period into the books. Durant hit the contested shot straight and true. When I tell you he is the best player in the league right now I am not bullshitting you. Kevin Durant is the new King. BERNARD KING.
Bernard King is my favorite Knick of all time alongside Patrick Ewing. There was not a shot in the Garden that Bernard wouldn't take, AND make. He was a forward with quickness and body control and a killer instinct. Bernard King used to wear Larry Bird's ass out [ll] on the regular. Bernard used to wear everyone in the league's ass out [ll] for that matter. Standing at 6-9 you could not guard him with a taller player. I remember watching Ralph Sampson attempt to guard Bernard and dude was looking like a mannequin as 'Nard moved around him like a slalom gate. If you were shorter than Bernard he would just shoot over the top of your head like it wasn't no thing.
The only thing that did stop Bernard was his body. He tore his ACL and missed playing with Ewing during his rookie campaign. If Bernard had been healthy the Knicks with him and Ewing would have made New York jump like Rod Strickland. When I watched Kevin Durant play last night it was like watching the second coming of Bernard King. Durant can get his shot off anywhere on the floor. He can put the ball down on the floor and penetrate to the rim[ll]. Mainly, he can finish plays with a score. I'm calling him the MVP this season. Fux a LeBron.
The advantage that Durant has over my Brooklyn hero King is that Durant plays better defense on the ball. Last night Durant was matched up at times against Tracy McGrady (who found the bottom of the net quite often as well), but mostly against Wilson Chandler who was terribly overmatched by the league's most dynamic player. Just wait until Durant starts going on those 40point streaks. Bernard would have a week or two of those. Just torching whichever teams came to MSG. I'm rooting for Kevin Durant to have as much success and more for his career. Word to Walt Whitman Houses and the King brothers from Fort Greene.