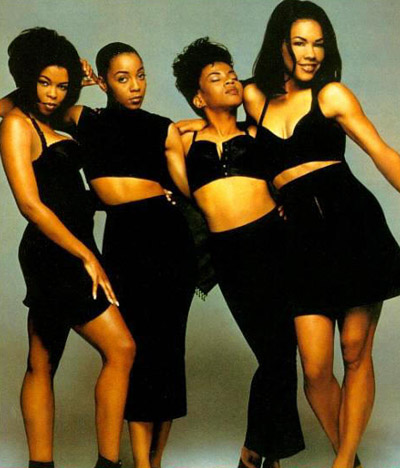 I'm not sure who had a bigger crush on EN VOGUE, me or PHIFE from a Tribe Called Quest. To my credit, I was in love with ALL of them. Of course CINDY was on the top of my list. Who in their rabbit azz mind wouldn't want to smash a California beauty pageant queen? DAWN was hot, but I couldn't really fuck with all the piercings and rock girl bullshit aesthetic that she morphed into post-Lucy Pearl. TERRY was my real love though. She seemed quiet and shy. Those are usually the girls that like anal.
My enfatuation subsided somewhat when my mother gave me a video for my birthday that featured EN VOGUE up close and personal. The ladies were a bit too up close with no make up or hair pieces on and a little too personal as they trash talked to one another chain smoked throughout the tape. It was my first little taste of the reality behind show business. I've come around to liking EN VOGUE again, just not with the same fervor in which I was willing to commit crimes for them.
At some point in my writing career I may have a chance to smash one of the girls from E.V. It won't matter to me how old she is either. Post-menopausal women can certainly get it too. Y'all know how we do!?!