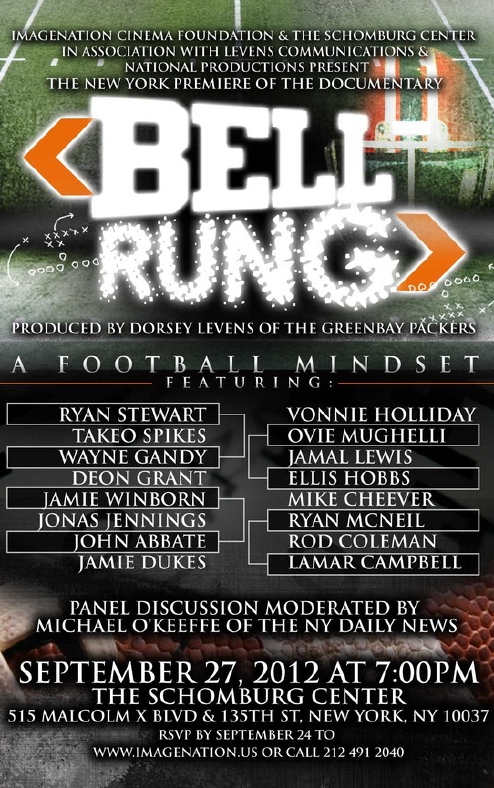 7pm, Thursday, September 27th
Schomburg Center, 515 Malcolm X Blvd., New York, NY
Click here to RSVP or call 212-491-2040
Join ImageNation Cinema Foundation and the Schomburg Center for the New York Premiere of Bell Rung: A Football Mindset. Scores of ex-players live a silent life of emotional, physical, and financial struggle resulting from their days in the professional arena, and endure lifelong struggles due to uncared for concussions.
Join moderator Michael O'Keefe of the NY Daily News, former All Pro Super Bowl champion Dorsey Levens, nuerologist Dr. Joelle Mast, director Zach Herman, producer Nick Basta and others, for a talk back following the screening.
Co-produced by Levens, Bell Rung asks the questions that need to be asked: Is it acceptable for professional football players to remain neglected by the league and owners as they confront a post-professional football life of disability and perpetual pain?
Should professional football players have to endure trauma-induced brain damage, early onset dementia, and Alzheimer's disease, often beginning well before the age of fifty and resulting in astronomical medical expenses without appropriate coverage?
Is society content to allow these former sports warriors to be cast aside and forgotten when they are no longer part of our national entertainment? Bell Rung answers these seeks the answers.