My grandfather once said that only two things come from St. Louis – beers and queers. So while the Cardinals and the Tigers were playing a friendly game of baseball, news emerged that St. Louis had already edged out Detroit in another popular contest.
St. Louis leads U.S. in violent crimes committed in 2005..
This is some kind of acheivement if you think about and do the numbers. As far as aggregate population numbers are concerned St. Louis doesn't occupy any of the top 10 positions in the United States. St. Louis isn't even among the top 10 cities with a Black population. So in order for them to secure the high water mark for 2005 there had to be some people putting in hell'a work.
It all starts from the top of the local government with the mayor of St. Louis' name being FRANCIS SLAY. How could this city not be a winner? Instead of having a parade for the Cardinals baseball club, Missourians should be celebrating their comeupance as the most gully municipality for the previous calendar year. Let's give a salute to some of the people that have helped the 'Show Me State' show us the way to the return to violent crimes…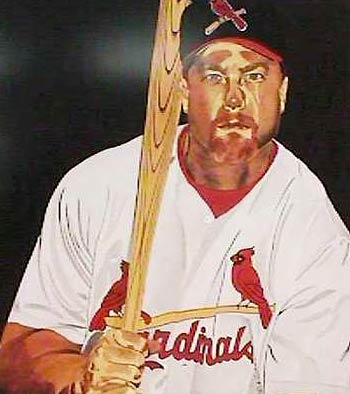 MARK McGWIRE
(former JOSE CANSECO syringe holder)
Controlled Substances Award
Respect this man for getting his anabolic steroid on and turning himself into a national hero.
ALI
(NELSON's weed carrier)
Driving While Black Award
The only funny part of this story is the rumor that ALI was tasered so much by the police that he committed an involuntary bowel movement in his Apple Bottoms.

---
CHINGALINGY
(CLIVE DAVIS' wig brusher/sack holder/yes VANDROSS)
Sexual Assault Award
Any old rapper can get busted for smoking weed and gun possession. Groping transexuals at an adult film awards show was this dude's gateway to rap music fame.

---
---