DAMON DASH would be the first person to readily admit to you that he has a problem. He is addicted to making money. DASH has even called himself a cake-a-holic as a way of introducing an urban colloquial for his desire to earn money. DASH briefly used a reality television program to bring to view the values to which he considered esteemable. Black Entertainment Television's 'The Ultimate Hustler' was an achievement in low-brow stereotypical minority run business plans and it probably paved the way for television programs like 'Flavoe of Love' and 'I Love New York'. The cooning and shuffling was disguised in the program's 'Apprentice'-like knock off format.
DAMON DASH has already become a caricature of himself at this point. He no longer shepherds the stable of artists under the Rocafella Records imprint. He has also been removed from his partnership role at Rocawear clothing. Jay-Z, the persona that DASH created based on a Harlem drug dealer named A-Zee, has become a corporate darling and he is consulted and consorted by major corporations that covet the urban money spending demographic. Don't let the irony of this reversal of fortune be lost on you. DAMON DASH has never given any care or forethought to the images that he has helped shaped through Hip-Hop and rap music.
These images have been of characters that trafficked drugs for the sport and lust of wealth, nary shedding a tear for the destruction of communities that these drugs will have wrought. Because their world of trafficking narcotics was metaphorically based on the music they delivered they might have imagined that no one was ever damaged by their deeds. Instead, I see a generation plus of young people that can recite several rap songs to me verbatim but don't know that they reside within Kings County. It is not enough to say "Broooooooooklyyyyyn!"
The other shoe dropped this week when one of my friends from the woeful record industry sent a facsimile to my desk of some papers that were circulating through the halls of DAMON DASH's old workplace. It always seemed to me that the life of a hustler should include making sure that the true hustlers were paid off first.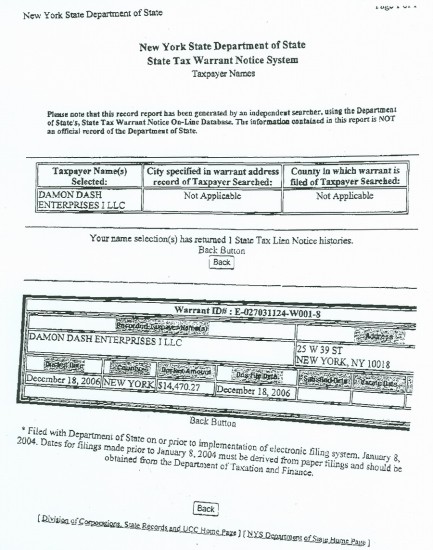 That amount seems somewhat piddling to the following amount which is admittedly more money than I will ever see in my lifetime. If DAMON DASH owes the I.R.S. over two million in back taxes then I can only imagine how much money he made overall, bearing in mind that rich people don't submit the portion of their incomes to the taxman that us regular poor people have to.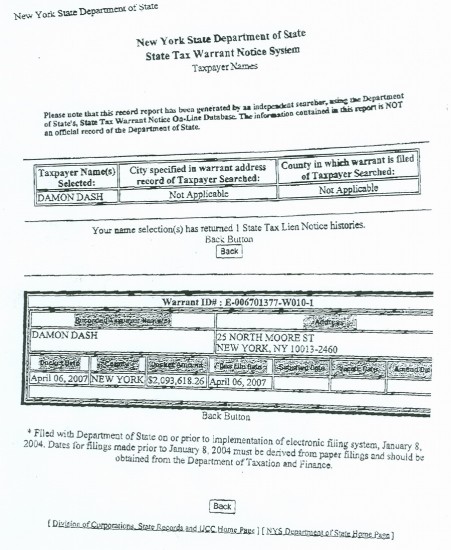 Now don't shed a tear for DAMON DASH. He's been through tougher spots than this one and the apartment he owns in TriBeCa would probably sell for 10x the amount of that tax warrant. The one thing above all other things that DAMON DASH has proven is that he knows how to sell shit to Black people. That alone makes him invaluable to the Tall Israelis. DASH has got to have a rabbi left on his team that can help him return to prominence.
Otherwise DASH will be like so many other folks who eschewed the lavish life and ultimately ran out of bread. In the famous last words of Marie Antionette when the Parisians had run out of bread… "Let them eat cake." I guess that won't be too bad after all for this admitted cake-a-holic.