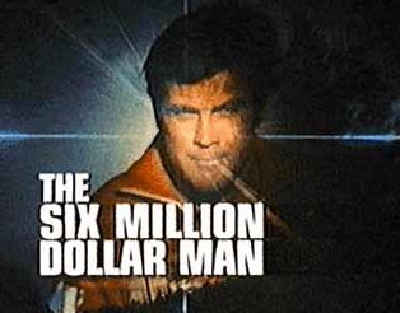 Holler back if you remember when six million dollars was like retirement money. Colonel Steve Austin had his whole mainframe pushed back in a plane crash, but then he was able to get his shit bionic'd out for six million dollars. That's basically like having your entire CPU rebuilt from scratch because you know how much be leftover of people after plane crashes.
Nowadays I think you could only get the x-ray eye for six milly. I want the x-ray eye to see which chicks are wearing the sexy bloomeristics. I wouldn't get my whole shit redone though. If you get your whole setup rebuilt with the hardbody bionics then the government is gonna want you to do shit for them like special missions and the what not. If you only have an x-ray eye then you can't be exploited as much. It's not that I'm lazy and shit but I don't feel like driving myself crazy. Have you seen how much shit KIEFER SUTHERLAND gets into in only 24 hours? Who needs the headache?!?
My mind flashed back to a simpler time when I was at the gas station this weekend filling up the tank for a quick upstate jumpoff. With gas at these prices I may have to get back on my skateboard this summer.
In other news…
Over ten thousand U.S. Servicemen have suffered life altering injuries while on duty in Iraq or Afghanistan. The government is spending only a fraction of six millions dollars to help restore their quality of life. Peep this blog – War Amputees.
Upon further review, those soldiers need to man the fuck up. Triple amputee to graduate from med school