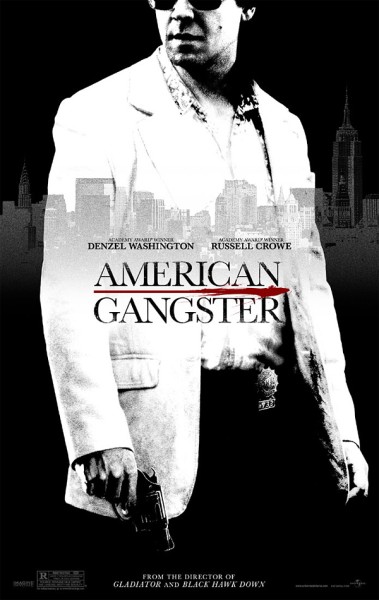 Am I the only Black person alive who hasn't seen the film 'American Gangster'? Is this almost a renouncement of my ghetto pass? I'm certainly not going to the movie theater to see that shit because you know fools will shoot at the screen, but I haven't even considered hitting my dude Ahmed the African off. He's got the joint directly from the studio along with the official artwork for only a five spot.
I mean, I will eventually watch that shit. Its just that I have a gang of 'Bionic Woman' to go through along with '30 Rock' and 'Heroes'. Do I feel like giving away two hours of my money to watch that bullshit? Fuck the price of a movie ticket, or even a clear as day bootleg copy. I'm considering the value of my time and energy being wasted by just sitting somewhere watching some straight up bolshevik.
I don't know about you kids but I value my time at over $100 per hour. So the time I spend being unproductive is like giving away my money. I already have a day job that taxes the eff out of me, along with my need to be twisted a minimum of four days a week. That doesn't leave a window wide enough for me to give DENZEL WASHINGTON or RUSSELL CROWE my $250 dollars. Its not like I'm going to learn anything from this film that selling drugs myself hasn't already shown me.
Maybe it will. Maybe it will show the story of an ambitious and enterprising young businessman who resorted to selling narcotics to help his mother pay her rent. Maybe I'll get to watch a film that discloses who refines and manufactures these narcotics so that they can be delivered to the distribution outlets? The fact that narcotics are so prevalent in western culture might be one of the themes discussed in this film. I doubt all the above, but as 'Ye Tudda would say, "that shit might could happen."
'American Gangster' is the story of how man had decided to destroy his community because of his lust for money. I don't even mean Frank Lucas, the real person or the fictitious character being blamed for Harlem's heroin epidemic. I am speaking on the man that was formerly part of humanity. The United States is filled with millions of Frank Lucases, Oliver Norths, and George Bushes who will kindly join forces to terminate people indiscriminately. Those of us left in the wake of their hurricanes of greed can only fight for scraps or pick up the pieces.
Hollywood isn't hardbody enough to print the real ending to an American gangster's fairytale.