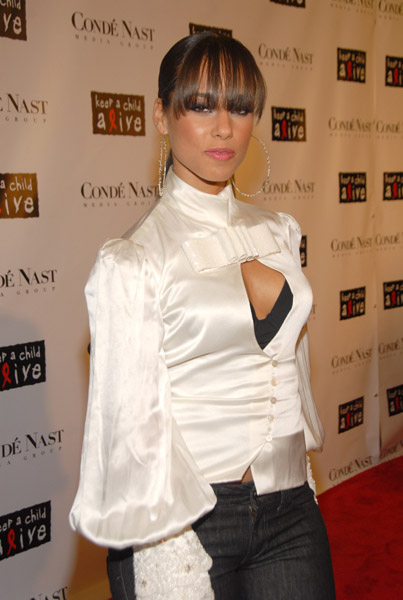 Now if you told me that ALICIA KEYS was going to be the MVP for the Q4 of the cRap Music Fantasy League I would not have believed you. Mr. KEYS is certainly a formidable blue chip prospect, but she would have to beat out the 2007 Q3 MVP as well as El Presidente Hovito who normally pwns crap music fourth quarters.
ALICIA KEYS did it though with her double platinum album, 'As I Am' along with her television and charity concert appearances. Finally a cRap Music Fantasy League star that actually scores points based on talent and putting in work, as opposed to just shooting someone and getting arrested. Take a look at the top 10 cRap Music scoring stars…
Alicia Keys 2900
Jay-Z 2450
TI 2125
Kanye West 2050
Common 1400
Pimp C 1200
50 Cent 1050
Lil Wayne 1025
Diddy 1000
T-Pain 600
As you can clearly see, A. KEYS was the boss bitch for the Q4. Jay-Z followed her closely thanks to the media push for his latest album. T.I. used his motion picture role and a multi-count Federal indictment to earn his spot. KanYe's last album sales have slowed, but the death of his beloved mother gave his score a bump. Common is a top 5 alive cRapper. Pimp C broke into the top 10 for the first, and more than likely the last time by earning a thousand points for his demise. 50 Cent is one of the usual suspects, while Diddy and Lil' Wayne show their ability to come up in the game without even releasing any music.
If your record label had a majority of these cRappers then you were more than likely going to compete for the Q4 crown. As it stands now two labels are actually tied for first place coming into the final days of the contest. The winner won't be announced until January 1st so anything can happen from now until then.
America Done Fell Off Records 11600
WindBreaker Records 11600
All Starz Entertainment 11050
CRap-A-lot Records 10300
Candyland Records 10200
Bang 2 Dis Entertainment 10200
Krack Ko Kaine Entertainment 10075
Incilin Productions 9900
Jesus Slap Boxers 9825
Gain Green Records 9600
Berries & Cream Records 9525
WTF Records 9375
Bodega Inc 9325
WDISL Records 9025
Funk Town Records 8525
SayDatNuccaName Wreckids 8500
The Nappy Ram Affiliates 8025
Fuckin Sellout Records 7825
Talent Show Entertainment 7675
Gunshine State Music 7525
Open Cannister Recordz 7325
North Star Records 7275
Fantasy Records 7175
Pretty Dollar Entertainment 7025
329 Music 6850
Beat Break Records 6650
Media Whore Records 6225
Bottlenecks Records 6125
NYC Records 6000
DubbleUp Entertainment 5875
Brick Productions 5725
Solutions Global Media 5550
Combat Jack Records 5450
Vagina Crusher Records 5425
Barely Literate Entertainment 5300
MIP Records 5225
Mental Calisthenics 5125
New Black Money Records 4900
Death On Arrival Records 4400
ASE Records 4325
The Block Is Hot Music Group 4325
BLZ Records 3700
Detroit In Dis Bitch Records 3575
County Of Kings Records 3250
Know The Limit Records 1825
Six Feet Deep Promotions 325

For a complete and comprehensive look at label rosters and scoring events download the cRap Music Fantasy League scoring spreadsheet powered by El Gringo Colombiano.
And for those of you interested in earing a free pair of sneakers courtesy of BILLY X. SUNDAY and XXL Magazine Dot Com follow this link to the registration for nest year's Q1