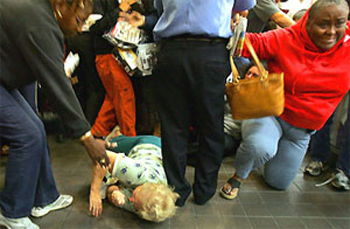 I am starting to hate the holiday season for all the inhumanity that it brings out of people.
Peep the article via RAFI KAM of Oh Word…
Surging shoppers kill New York Wal-Mart worker
Meanwhile, Wal-Mart executives enjoy all the free publicity. No press is bad press on Black Friday.
I have to be honest and telll y'all that I personally know the clientele that shop at this Wal-Mart. This was some negro nonsense of the worst kind. Black folks are normally the conscience of America. The moral compass some call it. I you don't know, now you know America is fucked the fuck up party people.
When folks trample someone to go shopping and then damn near riot when the store is closed because their actions made it a murder scene we have lost our way. This was Wal-Mart. Not Hammacher Schlemmer. Not Gucci. Not Christian Dior. Not Bloomingdale's. Not even fucking Marshall's (just copped me a sick little Polo R.L. knit on clearance – holla).
This wasn't just a Black Friday for some poor man's family, this was a Savage Sambo Shopper Nigger Nonsense Black Bullshit Friday. Yeah, I said it.
I wonder if they were selling some P.Diddy cologne. He is always involved in these type things.