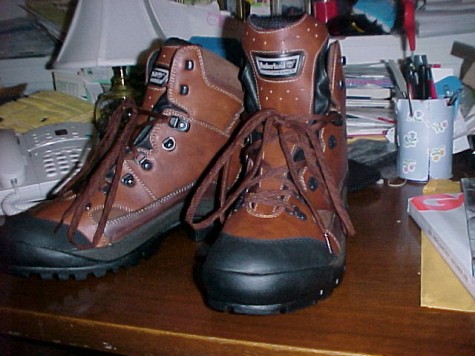 One of the reasons I haven't been able to co-sign the Nike boots movement is because I am still deep with Timberlands to the tune of about forty pair. I might have two(or three) pairs of classic wheat highs alone. I also have instructions that I am to be buried in those joints. Let's face it, Timberland classic wheat construction boots are the most Hip-Hop shoe of all time.
The pair I have pictured above are some super deluxe Gore-Tex Euro hikers. They are hands down my favorite pair. I have done all kinds of outdoorsy shit in these boots. Weeklong camping trips upstate. Construction sites. Shorts and wools socks in the cool parts of the spring and autumn. The only problem for Timberland with these boots is that they were made TOO well.
Timberland has the bad habit of making products that outlast the users desire to complete the activity they bought the shoes for. It's like you buy a pair of hikers because you love to go camping every four weeks during the summer months and then the next thing you know you have these boots for over twenty years. Timberland has to return to designing boots for these people in mind.
You can't make shoes for the urban consumer. No matter what race or class, the urban consumer is fickle and flighty. The heartland consumer is the person who makes consumption choices on some survivalist type ish. They buy shoes with the hope that this will be the pair they ride out the earthquakes, tornadoes and race wars with. The urban consumer just wants to be able to wear it with jeans.
I want to show you some of the boots from Timberland that I own. I have a pair that is over twenty years old. It doesn't fit my feet any longer but I have kept them to remind me of the sacrifice I made to acquire them. They are the original Iditarod Race superboot. Most of you know them as the "40 Belows". Just wait until you see those…