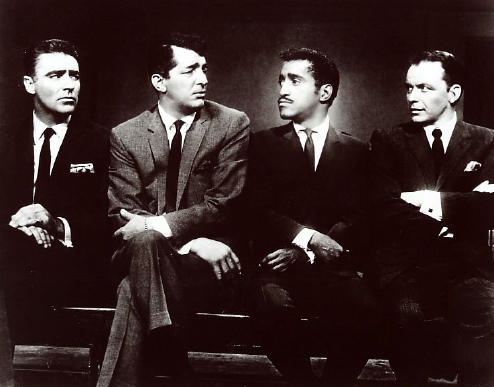 Rap music needs a FRat Pack…
Supergroups in rap music are like watching comets pass over eclipses. They are rare, but oh so spectacular. This is why posse rap tracks drive us crazy. To listen to a song with three or more artists each reaching for the gold over a dope beat is what I live for as a rap fan. This is why the SlaughterHouse movement has been killing shit.
Joell Ortiz, Crooked I, Joe Budden and Royce da 5-9 have been through some shit in this music industry. The ups and downs is what Joell might call it. This is another reason why I love SlaughterHouse so much. There is a pain and a pressure to the rhyming like they know a clock is ticking over all of them and they want to make sure their voices are heard before their time to broadcast them is diminished.
Imagine if SlaughterHouse could have formed up four or five years ago? Would we be so accepting of them now? Would we let them spin their stories of their frustration within the music industry to put their truths out to the public? Maybe not. SlaughterHouse's unique appeal is borne of their individual failures and history. They are all good artists who may not "look" like the artist that a label wants to push out front. Instead of waiting on the shelf these dudes took their destinies into the own hands.
Now what if there was a supergroup formed from some of the younger artists that are being pushed forward? Try to imagine this supergroup being cultivated and performing together collectively as the years go by. This could be the biggest shit rap music ever saw. This could be the best shit rap music ever saw. A supergroup of artists with different backgrounds but the one thing in common is that they are all themselves as performers. What I mean is that there are no super-hero-thug-drugpusher postures that have to be expressed by these artists. Just the art. And the struggle to freely express JUST THE ART.
If I had the ears of the tallest Israelis I would tell them to make the Frat Rap Pack that new supergroup. The potential contained in this collective is something that can't really even be measured right now. These guys could be bigger than Christmas.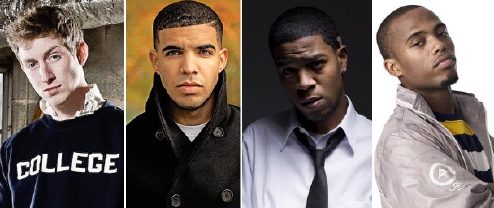 Asher Roth, Drake, Kid Cudi and Bobby Ray (B.o.B.) are the formula. They pool together regional diversity just like SlaughterHouse does. They all have different adn individual rhyming styles as well. I think this collective could be so futuristic in taking rap music to places that haven't been considered yet. The only problem I see in forming this college rap collective are the logistics that these guys are facing in rehearsing routines together.
Rappers don't have to be in the studio together any longer with the way our technology to produce music has evolved, but they still need to get together in the same room to rehearse how they would perform a song that way when the shows actually come they won't be on stage stepping on one another's toes. In sports they call that shit chemistry. Once the Frat Pack gets their chemistry in order these dudes will be unstoppable.
Asher Roth already gets all the ladies to come through in high heels. Can you think what it would be like to have all of these dreamboat heartthrobs [ll] on the same stage. College co-ed panties will be flying through the air like frisbees. Even fat dudes like myself will be getting action. This is why I love college.