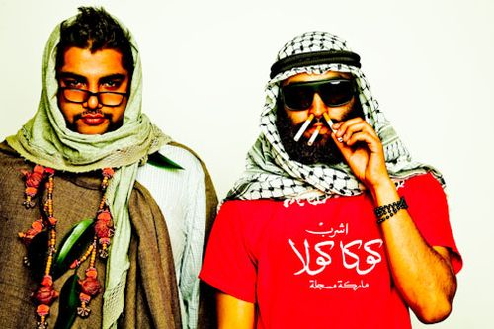 A few months ago RAFI pointed me to a music video from this band called Das Racist. Their steez re-awoke something in me that loves rap music.
It could have been their intelligent wordplay with cultural cross-referencers and newsworthy non-sequiturs.
It could have been the fact they were the kind of don't give a fuck retards that have been missing from rap music.
Smart dumb rappers were the rage back in the early 1990's. But even then it wasn't so much about intelligence and geo-political recognition as much as it was about rapping polysyllabic words. The self parody aspect of Hip-Hop was lost when rap music's tagline became "keep it real".
Rap music was never intended to be about reality.
Reality sucks.
Hyper-reality is what's really 'hood.
What's really food? Das Racist. From their sub-cellar underground dance classic mega-hit 'Combination Pizza Hut Taco Bell' to their trippy freestyle inspired 'Chicken & Meat' Das Racist sits squarely in my fastfood fanboy wheelhouse. I will officially lose my shit when they make a song about iced honey buns from the bodega.
Consider me an official Das Racist stan right now.
Being the thinking man's rap group is no small feat either, but they are good enough to bring RAFI KAM into the Lower East Side to enjoy their set so I think you other emcess need to take heed. RAF and I were joined at the Das Racist show by a fellow internets from Cleveland who still gets it in Ohio.
@IamRobAck is the future of the internets.
Das Racist is the future of rap music.
The iNternets Celebrities know this because we are from the future.