Archive for the 'BeYONCE's Hair' Category
Sunday, June 9th, 2013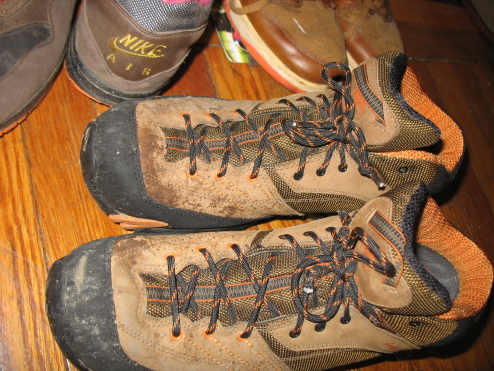 Man, I'ma keep it ten thousand with y'all… That Foxy Brown interview has me turnt UP! I been in the streets everyday this week. That's why I haven't been able to fux with this weblog. I apologize if y'all are tired of listening to the Action Bronson on Sneaker Fiends shit. I have not been in the lab to put my thoughts together cohesively. Robbie from UnKut is in town too. Shit is cray.
The pic above are my Timbs after rocking out with Just Blaze and various trap-house deejays at the Brisk Bodega event. Yo Brisk… How come y'all suckas ain't invite the Internets Celebrities to host y'all event? Why you jacking our swag without showing that love? Is there any love in this world?
No Wale and Kid Cudi
Just Blaze killed it. What more van I say. He spun a Foxy Brown track for me too.
A few nights earlier Robbie and I was rocking with the god emcee at Red Hook Park. Rakim headlined a CityParks Brooklyn Summerstage show that was reminiscent of so many park jams in my younger life. Thankfully no one had to tap power from a lightpole.
We gotta teach Robbie how to do the wop this summer before he goes back to Kangarooland.
Here's a bunch more FREE shows going down this summer via CityParks…
Big Daddy Kane and Rob Base (It Takes 2) at Von King Park 6/12 and 6/13 respectively
Femi Kuti and Yasiin Bey at Cemtral Park 6/23 and 6/24
Freedom Party for our anniversay in Central Park 7/2
Raheem DeVaughn and Lyfe Jennings 8/4
Bilial up in Harlem at Marcus Garvey Park 8/7
DJ Spinna in Harlem (Marcus Garvey) 8/11