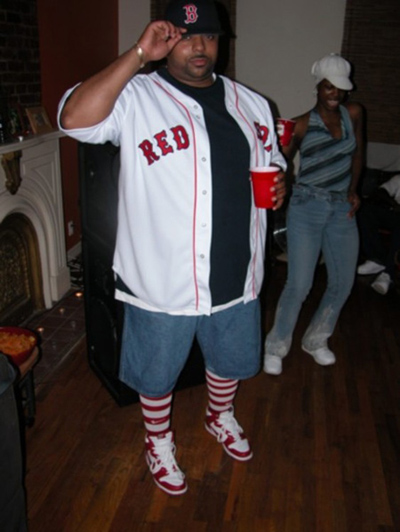 O.K., O.K., I made it home safe from the West Indian festivities on Flatbush Ave and Eastern Pkwy. Folks were getting stabbed, shot to death and run over by SUV's but the scene was still filled with maddd love.

I was even lucky enough to find a baseball jersey with socks and sneakers to match the plastic SOLO cups that would stay filled all weekend with… uh, yeah.
NOTE: all my folks that live in the metro NYC area!
I respectfully request that we all BOYCOTT the NY Daily News until they issue some form of remuneration to the family of Anthony Barthelomew. There was an incredibly large and graphic photo of Mr.Barthelomew as he lay in the street surrounded in a pool of his blood right after he had been shot in the HEAD by one of the parade-goers. The American public has been recently engaged in two violent conflicts in both Afghanistan and Iraq and the Daily News has not published a picture that was as graphic and depressing as this one.
Mr.Barthelomew's mother had made an appropriate photo available to all news agencies so I question the Daily News editorial staff's decision to publish the photo they did.
This time no one can blame JAYSON BLAIR!
Everyone else that feels like doing something fun this friday should please visit my homegirl KEITA's website. This friday night at Empire roller skating rink she will do her thing. Classic 80's/90's Hip-Hop, Pop, Rock, Funk and just plain good music. I will be up in there, I hope you will too.
OneHundred