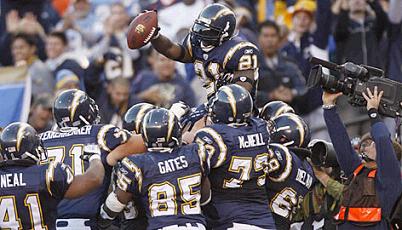 ***submit your picks to this e-mail address***
***blu_cheez at dallaspenn dot com***
This is the moment that we have all waited for. The final week of the football season and someone is about to crowned the 'King (or Queen) of the first annual DP Dot Com Football Pool'. I want to thank all of you that stuck around since the beginning and those of you that came to play when you did. Give it up CANDICE for holding down the leader spot almost all season, but like her Giants she faded in the end. Big up to all the ladies that repped for their squads. There's nothing better than having a shorty that watches football with you on Sunday and know the point difference between a basketball and a football field goal.
Here's a breakdown of the leader board…
AMADEO = 4 pts (81)
Mr.KAMOJI = 5 pts (80)
S DOT = 10 pts (80)
THE DALLAS = 10 pts (79)
SASQUATCHFART = 4 pts (78)
LM = 6 pts (78)
PRYNSEX = 4 pts (76)
CANDICE = 0 pts (75)
J trademark= 17 pts (74)
40's-Odie-Dillie-Dopeshit = 3 pts (71)
ALEX2.0 = -1 pts (71)
ESBEE = 0 pts (65)
SHONQUAYSHAH= 4 pts (59)
TIFFANY = -1 pts (56)
JESSE = -2 pts (47)
The only person that is technically mathematically eliminated is JESSE (sorry dude), but everyone else has a chance to win… Technically. Follow the Bonus Points Heavy Rollers chart for this week carefully. Keep in mind that if your H.R. picks fall you lose your point wager, but if they win you get double.
The Bonus Points Heavy Rollers breakdown goes like this…
The following poolers are all allowed two seperate +1 H.R. picks in the Bonus section
AMADEO
Mr.KAMOJI
S DOT

The following poolers are all allowed two seperate +2 H.R. picks in the Bonus section
40 DAWG
SASQUATCHFART
LM
PRYNSEX
CANDICE
DALLAS
J trademark
ALEX2.0
The following pooler is allowed two seperate +3 H.R. picks in the Bonus section
ESBEE

The following poolers are all allowed two seperate +4 H.R. picks in the Bonus section
SHONQUAYSHAH
TIFFANY
JESSE, it's just for glory this week, but you do get to submit two(2) +5 H.R. picks.

***submit your picks to this e-mail address***
***blu_cheez at dallaspenn dot com***
Here's your lineup card for the final weekend…
NEW YORK GIANTS @ WASHINGTON REDSKINS
CLEVELAND BROWNS @ HOUSTON TEXANS
NEW ENGLAND PATRIOTS @ TENNESSEE TITANS
PITTSBURGH STEELERS @ CINCINNATI BENGALS
JACKSONVILLE JAGUARS @ KANSAS CITY CHIEFS*corrected
SAINT LOUIS RAMS @ MINNESOTA VIKINGS
ATLANTA FALCONS @ PHILADELPHIA EAGLES
BONUS POINTS * HEAVY ROLLER * BONUS POINTS
Most rushing yards this weekend?
STEVEN JACKSON or FRANK GORE
Most passing yards this weekend?
CARSON PALMER or REX GROSSMAN
Which cats score more?
PANTHERS or LIONS
Total score for GREEN BAY @ CHICAGO – 44 points
OVER or UNDER

***submit your picks to this e-mail address***
***blu_cheez at dallaspenn dot com***