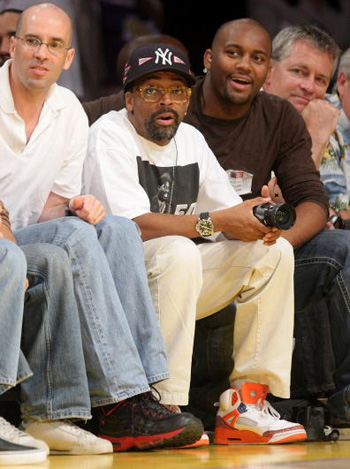 Now that the Association's season has finally tipped off almost everything is right with the world. The fact that the Knicks are currently undefeated is simply just gravy on top of the frosted icing.
As every season begins filled with promise and potential I scan the team rosters to see if my homey DONTREVIUS WENTERS has been picked up by any of the clubs.
DONTREVIUS WENTERS has held on to his hoop dreams for the last eighteen years hoping to be drafted by a team in need of the special skills he brings to the game. When I say special skills I should clarify that as Special Education.
DONTREVIUS loves the game of basketball, but his skillset to basketball is equal to Lil' Wayne's rapping. Actually, DONTREVIUS is worse. I can listen to Lil' Wayne. I close my eyes when DON steps on the court.
Still and all DONTREVIUS maintains his hoop dreams through his annual draft day disappointment. Maybe someone will give this kid a shot. Let him at least get the water or wipe the sweat from the floor with a towel. Let him work his way up the ladder. The one thing he has for the game is love.
Just don't let him hold your basketball.

Draft Daze pt.1:
Conceived / Directed / Edited – Terrence Q. Elenteny
Writers – Dallas Penn, Terrence Q. Elenteny
Original Score – Jon Davis

Cast:
Dontrevius Wenters – Dallas Penn
Fatima Wenters – Terri Ballard
Coach – Murray Adams