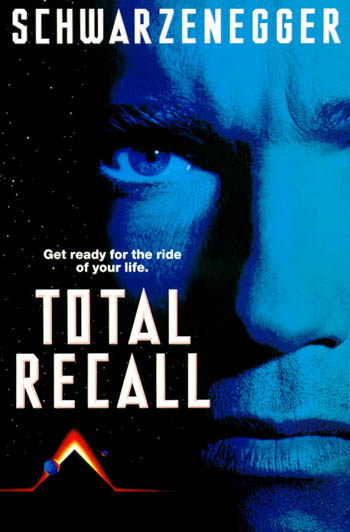 I fucks with a bunch of SCHWARZENEGGER movies because them joints is straight fire. 'Total Recall' was a blast for me because I dig the future dystopian metropolis settings on Earth and Mars. Flicks like this offer us a real taste of the future where dictator governors will regulate the air we breathe. Not even on another planet though. Right here on Earth oxygen will be the new platinum standard. The other night I was watching the movie again on TBS and something just dawned on me…
What if the whole story was really Quaid's dream at the recall office. Like, what if his dream was to go crazy and then go to Mars and wild the fuck out? I don't see why Quaid ever had to be in anything other than a dream state for the whole fucking mindtrip. Although, going back to his scandalous wife, played by a young, hot SHARON STONE would have sucked balls. Like, I've never been to Mars, but they made that shit look dope as fuck. It was like Vegas on space crack.
Then I thought about an alien race that might have visited Earth already and then broke out. Since GOD is all powerful I know that humankind isn't even like the best species on GOD's resume. I mean, it's like we need a partner to procreate. That's not really efficient. There's prah'lee a species that can multiply itself with a thought. Humankind is prah'lee the beta version for universal species. Yeah, movies like 'Total Recall' make me wonder sometimes and I didn't even have to get altered to enjoy it either.
I'm mailing an unopened VC-arrah tape to anyone who wants it courtesy of DP Dot Com Sponsor AMADEO SOGNI. The four-breasted lady is not included.