I found this old CD single in my crib when I was doing some reorganization. This was recorded by my dude Buddah Tye along with Slade Savage. They were part of the early Hydra Entertainment movement. I was gonna be a rap music record producer way back in the day, but I derailed those dreams with my greed and my foolishness. We will get into the particulars of that soon.
Buddah Tye and Slade Savage were dudes that I grew up with from the beginning. Slade Savage's mom was my first babysitter. Buddah Tye is the dude that was my OG weedcarrier, literally. Buddah Tye, along with SoundWave were the first cats from my neighborhood to fuck with me and my Decept brothers at the March of Dimes Walk-A-Thon. We go back like lawnchairs my niggas.
Speaking of SW… This week was sonn's new year. I wished him a happy 39th and you know what this fool had the nerve to say? He wasn't born in 1970, but in 1971. WTF?!? That is just the type shit this foolio nigga would try. He is trying to push his age back by ONE year with the thinking that "Why would I only push my age back one year instead of two or three?" Listen SW, because I know you are reading this. Your old ass is 39. Quit yer' bitching and be happy. You look great for an old ass nigga. Look at me. I look like I got one Air Max already in the grave.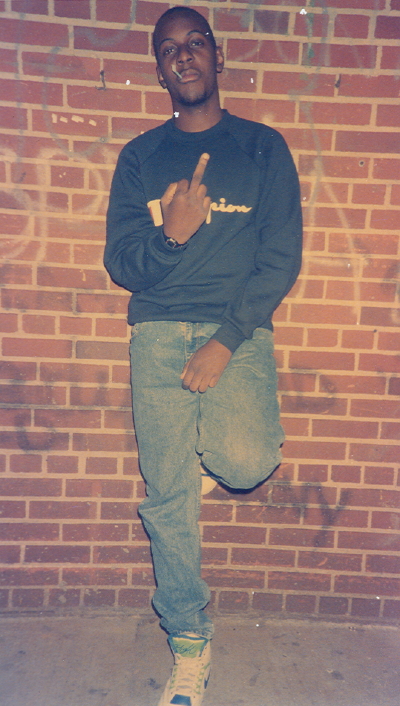 Slade Savage was about two years younger than us. He and ThunderCracker were in the same grade. Along with the homey June these dudes were the youngest cats getting blunted and stunted. If you took a day off from school with these fools you were gonna get high and you were gonna have sex with something young and lovely. This was their everyday mission. Slade and June used call TC a fool for running around the city with me since the shit I wqas doing was surely going to lead to being arrested but all these dudes did was stay high. Well yeah, they also fucked a lot of girls too.
TC's death was a big turning point for all of us. TC was the bond that held us all together. June left NYC and went to Baltimore to grind. Slade Savage focused on rapping and I went my own way. It wasn't until a few years ago that we all found ourself in communication again. June had survived Baltimore in the early 90's when a lot of dudes had not. Savage has moved on from emceeing to raising his kids. I feel like he has about five or six on some SHAWN KEMP shit. I thought about these dudes as I straightened up my apartment and uncovered some memorabilia.
I miss this dude so much sometimes.