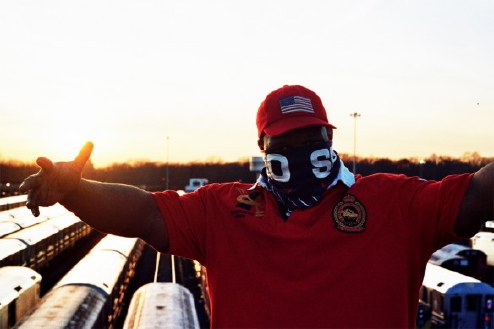 It was all a dream just a few months ago when Meyhem Lauren told me that the studio sessions he had while at the South by South West festival were going to end up being an album. The result of all that hard work is the 'Respect The Fly Shit' project. Meyhem joins up with beatmakers Tommy Mas and Harry Fraud along with the usual suspects like Kaiser Soze aka Action Bronson, AG the Coroner, Himanshu from Das Racist, Roc Marciano, Sean Price, Despot, and Riff Raff.
The album sin't a stab at boom-bap sounds from the mid 1990s as you may have expected. Harry Fraud and Tommy Mas are two of the more eclectic young producers who still fux with the soul samples and scratchy drum kicks but they don't beat you over the head with NYC's previous sound. I appreciate Tommy Mas from the Dr. Lechter album. Harry Fraud is well known in rap ciphers because of his Rick Ross and French Montana placements. Neither producer gets caught reaching for a beat meme thread on this project
Forget about all that high-concept rap bullshit and just put your headphones on and rock out. That was the theme for RTFS so I just let the music play out and pleasured myself [ll]. Don't look surprised if I make a fanboy video for every track on this album. I've got a whole lot of action figures.
You can stream 'Respect The Fly Shit' and download for yourself.