Archive for February, 2011
Sunday, February 27th, 2011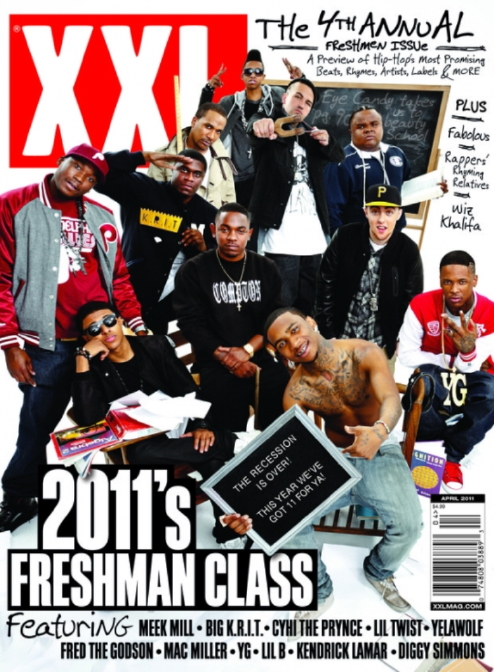 XXL magazine's annual Freshmen cover always generates some controversy and discussion. The big argument with this year's freshmen crop is that Yelawolf is now featured on two consecutive cover stories. Isn't this is what pop culture does with their artists tho'? Cramming them down your throat whether you fux with them or not.
XXL magazine has officially become the Tiger Beat magazine for the Hip-Hop set. Shaun Cassidy was mentioned or pictured on almost every cover of that rag for several years.
The real question I have is how good is XXL at supporting the artists they say have next? Some of these freshmen end up being dropouts (no KanYe Tudda). Like I mean dropping out of the scene altogether. When is the last time you heard mention of Ace Hood?
I figured we could take a quick look at XXL's past freshmen and review their GPA to see if these dudes are still taking 'em to school or have they been left back.
Freshmen class of 2008
Joell Ortiz – One of the anchors of rap supergroup SlaughterHouse with two(2) albums completed. Joell Ortiz leads the future wave of NYC emcees

---
Crooked I
– Another SlaughterHouse spitter who knows how to keep his name hot.
Saigon
– Releasing his debut album 'Greatest Story Never Told'
Plies
Rich Boy
Lupe Fiasco
– Preparing his third LP: 'Lasers' and possibly carrying weed for Pharell
Lil Boosie
Gorilla Zoe
Papoose
Young Dro
– Hanging out a lot with underclassman Vado and wearing Polo
Freshmen class of 2009
Kid Cudi – Holding KanYe's best weed has helped him make that spaceship music

---
Wale
– At least Rick Ross fux with him musically
B.o.B.
– Grammy nominated which can also mean seriously overrated
Charles Hamilton
– Still in school and sadly no one really cares
Asher Roth
Cory Gunz
Blu
– prA'li the best rapper in this class but still needing that "push"
Mickey Factz
– Making car commercials
Ace Hood
Curren$y
– People love his 'Pilot Talk' mixtapes, but I'm waiting for him to really blow [ll]
Freshmen class of 2010
J Cole – So much potential but does he have the work ethic?

---
Nipsey Hu$$le
– A movement all by himself
Wiz Khalifa
– The breakout star of this class
OJ Da Juiceman
Freddie Gibbs
Big Sean
Jay Rock
Fashawn
Donnis
Pill
Freshmen class of 2011
Lil' B – His movement is already XXXXXXXXL without even being on this rag's cover. XXL needs him to still be legitimate to a youth dominated demographic

---
Fred The Godson
Meek Mill
Mac Miller
YG
Cyhi The Prynce
Yelawolf
Kendrick Lamar
Lil' Twist
Diggy Simmons
Big K.R.I.T.
Sunday, February 27th, 2011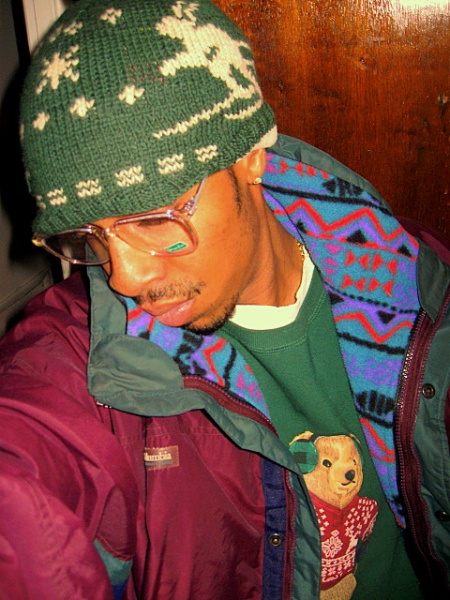 My brother WIGGZ is a lifestyler extraordinaire. He created the website Show Ya' LO and he travels far and wide to preach the gospel of the lifestyle.
WIGGZ fell thru the other day for one of our SFU drops featuring New Balances because he thought we might have had our wires crossed on the style number of the NB hiking boot. We love the NBs here at DP.com and we love that New Balance has retro'd their heritage styles.
Here are some images of the OG NB hiker which just went for $51 ($36 bid + $15 S/H) on the eBay system. That was a steal. I hope that WIGGZ was the winning bidder. These joints are boss. And peep the official Vibram soles. New Balance was nothing to fux with back in the day.