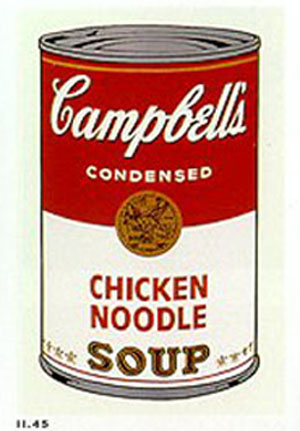 Campbell's Soup Can by ANDY WARHOL = teh ghey pop art masterpiece
It seems like another dance craze has captured the fancy of jig children in the ghettos. When these kids aren't playing on the X-Box 360 consoles or smoking crack they are creating nifty little piccaninny dance moves. It's part of the wonderful creative nature of jig babies which is sold to the world as wholesale archetypal racial behavior. One of the problems that we older jigs face is that the youth are constantly trying to parody our worst behavior. It's not like the kids try to copy us when we are doing the right thing. But if we are out here fucking up you can best believe there will be a gang of munchkins trying to do what we do.
Do any of you rememeber the dance called the 'Harlem Shake'? It was originally called the 'Vibrator Orgasm' after one of the little harlem jig kids watched his mother convulsing after she placed a Magic Wand inside her behind. Now the 'Chicken Noodle Soup' has replaced that dance. 'Chicken Noodle Soup' is the act of urinating on someone inside the shower. The 'Can of Coke on the side' is when you do a number two. I thought everyone knew this, but apparently the idea of these acts are all the rage of negros nationwide.
Do you know how long it took me to find a Black girl that would let me pee on her let alone defecate and smear it like it were cocoa butter?!? And now everyone is jumping around and dancing about it. I suppose I could blame ROBERT SYLVESTER KELLY for making this all popular with the youth, but who is responsible for this change of attitude with more mature females. I have been to restaurants with Black girls who won't eat unless the flatware is washed in front of their eyes, and now they are dancing around to the notion of being peed upon. "Let it rain, clear it out, let it rain some more". When did little Black girls become such freaks?!?
I guess I should just be patient and wait for some jig kid to invent the 'Boston Clam Chowder with a glass of red Kool-Aid".