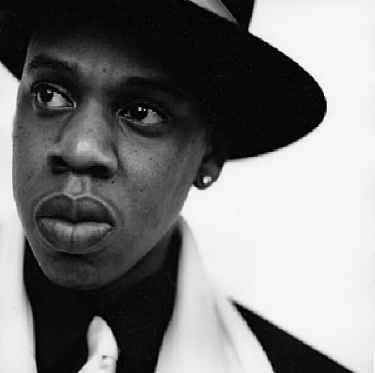 Editor's note: I wouldn't trade the community that hangs out here at this website for anything. The viewpoints are always smart, intelligent, witty and thorughly unpredictable. And that's just what you see in the comments threads. The e-mails I get remind me that our generation is far from the apathetic monolith that the mainstream media describes. DP Dot Commenter CeezDiem sent in this e-mail about the latest music video from Jay-Z a/k/a "Young Barclay". So tell us CeezDiem, how do you really feel?
What up Dallas,

First time emailing. Comment every now and then. Love the site. I'm an aspiring filmmaker and rap lover/hater and wanted you to do a drop on the new Jay-Z video for 'I Know'. I really think the topic needs discussing. So I started writing down my thoughts and then I realized I had created the drop that says what I wanted. Maybe this can fly out to the people at DP?
Gray Hova's newest video just dropped, and other than sparing us the sight of his old man jowls gyrating to his own raps, he's once again doing his (ex)community no fucking favors by romancing the "stone" yet again.
The 'American Gangster' album was already nothing more than a cheap excuse for Jay to drop the Gwyneth Paltrow shout outs and go back to that crack rock talk my little cousins eat up with 2% milk and a cartoon spoon. Fear of being obsolete obviously shook him up after the rap Hindenberg that was…uhh… whatever that terrible post-retirement album was called, and drove him running back to his street pharmacy journal, post haste.
So he dusted off and donned his Super-Dealer cape once again and everyone heralded his cocai… i mean Hair-owe-in flow, his choice beats, and lack of Chris Martin duets. Hovi was back to his old boasts of neighborhood destruction! Not only that, but artiste' that he is, he was able to find inspiration in a pretty (glorifying) but ho-hum gangster movie that's far from a classic! How ever does he do it??!! I guess hydrating Africans, moving the Nets to Brooklyn, and doing whatever the fuck it is he does for the U.N. isn't exactly what's hot in the streets right now. Rhyming "Britney" with "get me?" clearly is.
L'chaim!
As an Armchair Cultural Critic/Hatin' Ass Loser, I was ready to make my peace with the whole affair, or at least shut the fuck up about it for a second… And then I saw this motherfucking video.
Alright, he did us TWO favors in this video. A) He's not in it for a single frame. And B) He put Zoe Kravitz' fine ass up in it. I swear that lil' dame simultaneously turns me on and scares the shit outta me at the same time. She looks like she drinks blood and has a body temperature of 71 degrees. But I'd still follow her to a dicey underground party at a meat processing plant any night of the week. Fuck whatever Blade's talkin' bout! This chick looks like Sade 2.0!
What the fuck was i saying? Oh yeah. So at the start of the video, I was actually kinda impressed. Fine chick, dark tones, a song about drug addiction. I was expecting maybe a 3 minute rap version of Requiem for a Dream (and crossing my fingers for a remake of that "ASS TO ASS!" scene. 'Swede' that Gondry!). But what do they feed us instead? Basically an ode to shooting up!
Four things happen in this Video:
1) My underage booboo meets up with some white schmoe in the street.
2) She goes to a party with him and stares off at these slow moving hypnotic light tentacle things.
3) She sits around a posh place lookin high as shit.
4) And at the end she lets those lights coarse through her. OH!!! And she beautifully exhales white dust!!!!!!!! WTF!
Now from what I hear about the H bomb, shooting it up is like your veins are one big urethra bustin off hot champagne ropes on a sea of Scarlett Johansenns. So at the end of this video, when Lil Zo' is floatin around and gettin eaten up by the tentacle lights, I can only assume it was intended as a visual metaphor for spikin' that gravy. But then THAT's IT! That's the end of the video!!
WHERE WAS THE DARK SIDE? The destrucion of family? Of love? Of Life? The song's about Jay (playing the part of King H, naturally) rappin' about his chick that used to love him/be addicted to him, but eventually left him/went clean. The video shoulda been a faux-documentary about a fiendin chick who starts doin it at parties, falls for the brown, gets fired from Macy's, steals from her Momma, gets beaten up by a low level dealer/boyfriend, starts hookin, scheming, flim-flammin and grinding, rehabbing, relapsing, losing teeth, gettin ugly, getting better, getting busted, etc etc. Until it ends with her fragiley coming out on top.
I dont think fragiley is a word, but you get the point. Maybe Jay owes Spanish Jose a big one and made this video for the purposes of sending him a new batch of young junk recruits. Why else release a visually romantic poem to heroin thats all high and no low?
Am I trippin, or is this shit basically a commercial for H? It might as well end with a voice over from James Cromwell sayin', "Afghani Brown: Fuck what you heard". Is there a part 2 I dont know about where Zoe Kravitz walks around the Lower East Side like the couple in 'Dope Sick Love'?

What do you think? Is this a Crime against humanity or am I just Hatey McHater, mayor of Haterville?
Oh, and P.S. This is what the video SHOULDA looked like.
Shout out to Ginger Lynn!